Story
UNDP Yemen: Fully Solar Powered - UNDP Yemen Office Goes 100% Green!

Yemen remains one of the world's largest humanitarian crises, with the ongoing conflict negatively impacting peoples' access to basic services, including access to reliable electricity. For years, Yemen's citizens have struggled with ongoing electricity outages, affecting all aspects of life. Additionally, diesel - often used as an alternative to the power grid and accompanied by negative environmental impacts - has skyrocketed in price, leaving many without essential access to power.
LEADING BY EXAMPLE
The United Nations Development Programme (UNDP) works across Yemen to support people and communities with solutions to this issue by providing solar power, hydropower, and other renewable energy solutions. With a large presence on the ground, it is vital that UNDP can continuously serve the Yemeni people, as well as set an example for preserving natural resources and leaving a light ecological footprint.
In 2017, UNDP began exploring the available solutions for powering UNDP's Country Office, including other buildings in the Sana'a compound, with green energy. The process was not short, nor was it simple. For the Sana'a-based office, a six-year-long journey ended in September 2023, ultimately achieving a 100 percent solar powered office.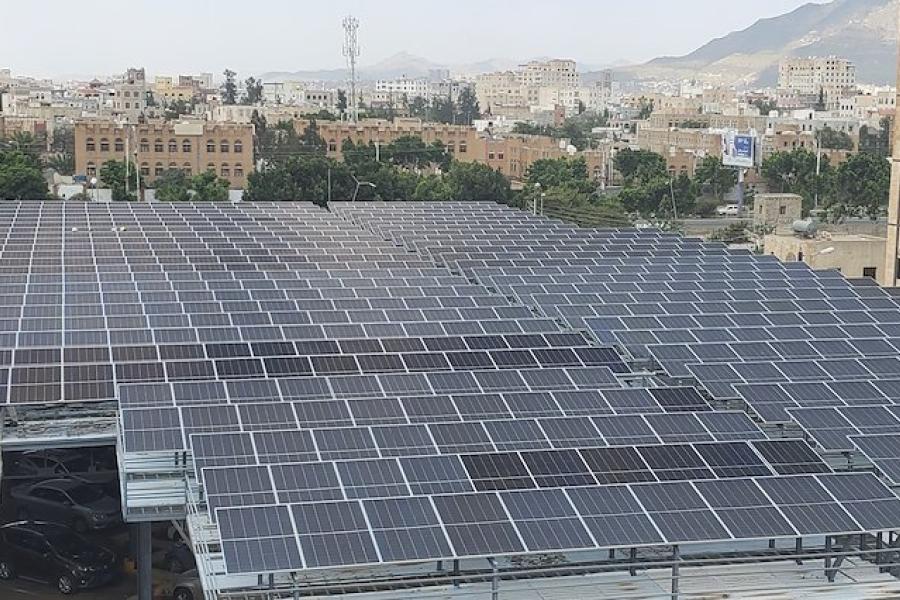 AN IDEAL ENVIRONMENT FOR CLEAN ENERGY
Yemen possesses the ideal geography, topography, and climate for a seamless transition to renewable energy. With over 2,000 kilometers of coastline, along with strong water current pressure in Bab Al-mandab Strait, there is tremendous opportunity to use turbine technology to produce clean energy. Across Yemen, there is an average of eight hours of nearly vertical sunshine, suitable for solar energy solutions. The tens of thousands of square kilometers of desert in eastern Yemen provide an ideal environment for both solar and thermal energy systems, as well wind turbine facilities.
According to Ashraf, an engineer who worked on UNDP's Yemen Country Office solar project, "Yemen, and particularly Sana'a, is one of the places in the world that has both a good level of sunshine and unusually cool weather, which makes it very effective for the generation of solar power."
Considering this, UNDP carried out a feasibility analysis and needs evaluation for the UNDP Yemen County Office in Sanaa. Colleagues across the world were consulted, and all agreed on the feasibility of a solar-powered office as the only practical and sustainable way forward.
With a number of solar panels already in place in both Sana'a and Aden offices, UNDP made the decision to go completely 100 per cent solar powered in Sana'a. Construction soon began to install hundreds of solar panels above the UNDP Yemen staff parking lot, covering approximately 3,000 square meters, or six basketball courts. Not only does this solution provide power to the office, it also shelters vehicles from the hot sun, and decreases both air and noise pollution in the neighborhood.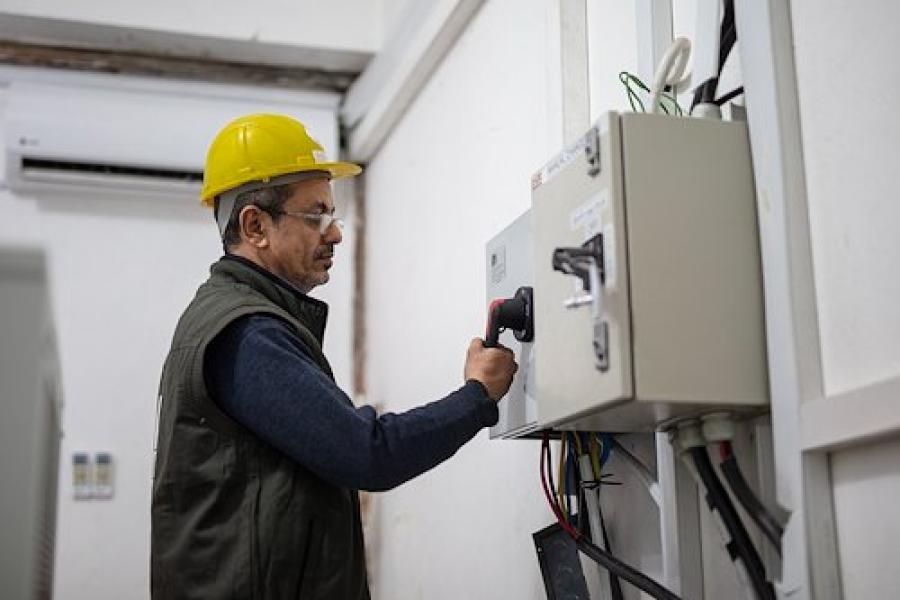 A DIFFICULT JOURNEY: ACCOMPLISHING THE IMPOSSIBLE
Challenges began to arise when carrying out an operation of such magnitude in a country in conflict.
Lengthy approvals and travel time for equipment to reach Yemen extended the project timeline and tested the patience of UNDP engineers. On numerous occasions, truckloads of equipment were turned around, and countless attempts were made before the successful arrival of all needed hardware.
Additionally, local partners required capacity building to enhance their skills related to solar equipment installation. Online training courses were created from scratch and made available for implementing partners; this took time, however it ensured that all project partners were up to speed on the latest technology and ready to implement. When partners and engineers were unable to travel, they video-conferenced in, directing staff in Sana'a with installation.
"I was apprehensive about how this will work out, given the challenges," admits Riyadh, an engineer who worked on the project.
UNDP Headquarters supported with the first phase of the project in 2019, which included a battery-invertor solution with the ability to store 307 kilowatts (kWh) of power. Additionally, colleagues in Copenhagen helped with the procurement process for the various items needed. The newly installed system partially met the office's daily energy needs with its 100 kW of power capacity, sufficient to run the critical load.
As soon as the lights came on, Riyadh gasped in delight—his months of study, labor, and patience had paid off.
"Wow, it appears that everything is in order," he exclaimed. "I am overjoyed with this achievement."
Then, the COVID-19 pandemic hit.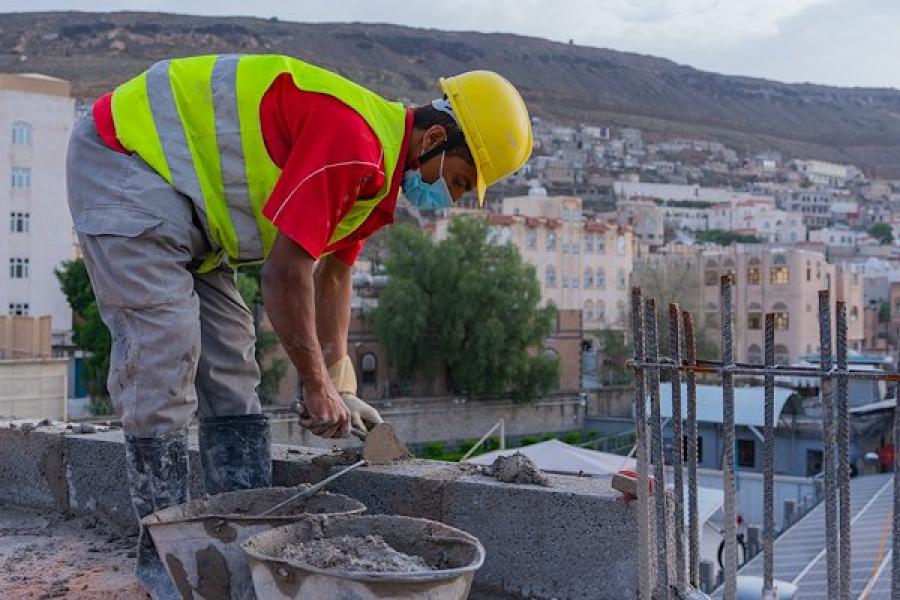 STARTING OVER AFTER COVID-19
In August 2021, following the easing of COVID-19 restrictions, a qualified internal UNDP team determined the primary components required to finalize the solar project.
A steel mounting structure was designed to withstand harsh environmental conditions, including strong winds, heavy rain, and potential flooding, ensuring the elevation and optimal positioning of the solar panel farm to maximize sun exposure. Additionally, metal reflectors were erected on top of the structure, beneath the solar panels, to capitalize on the double-sided technology of the solar panels. This technology enhances panel efficiency by approximately 15%.
The control and battery room were strategically constructed above the generator room, making optimal use of the limited space.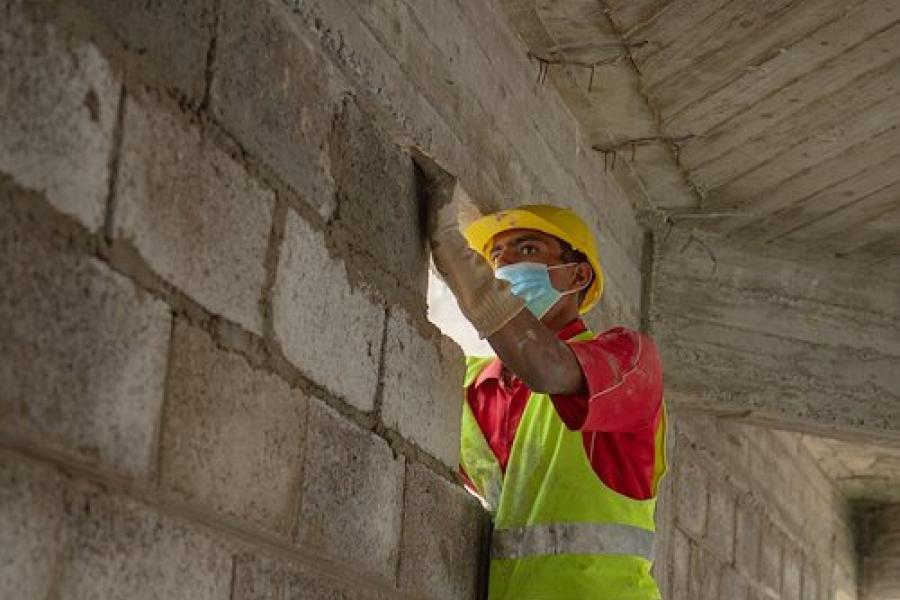 THE MOMENT OF TRUTH
Following a long journey and several delays, the final piece, the battery bank, arrived in August 2023. Following installation, it was announced on September 10, 2023 that the new system was completed and powering the office with 100% solar energy.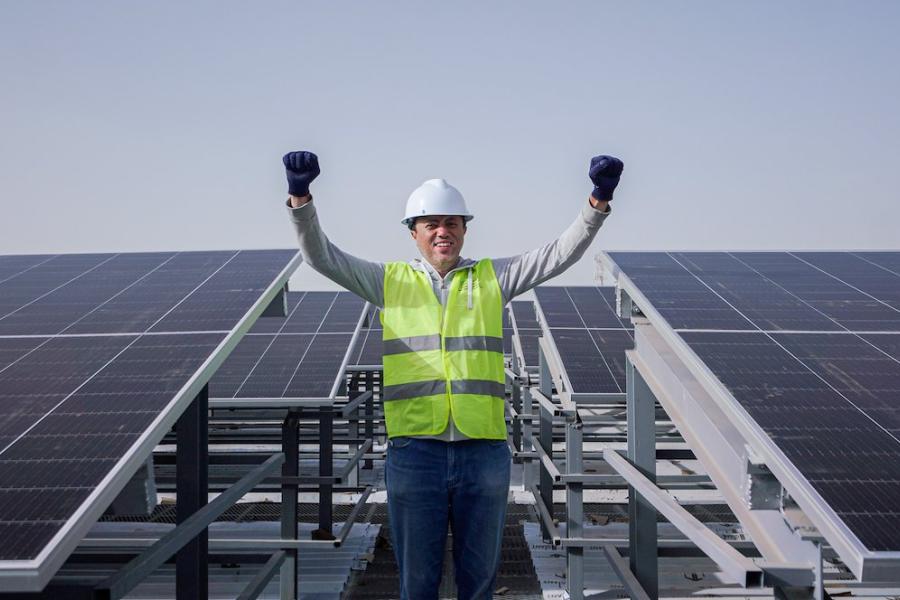 EXTRAORDINARY BENEFITS
The expected financial benefit for the first ten years of the project's operational life is around US $3 million. After five years, a return of investment will be achieved. The project also enhances community safety by keeping the area surrounding the office lit during night hours.
By saving over 36 thousand gallons of diesel per year, the system will contribute to the reduction of more than 150 metric tons of CO2 emissions.
UNDP Sana'a's new solar-powered office contributes to five sustainable development goals, spotlighting an extraordinary achievement, finished despite a complex environment and multiple challenges.
SDG 7: Affordable and clean energy
SDG 9: Industry, innovation and infrastructure
SDG 11: Sustainable cities and communities
SDG 12: Responsible consumption and production
SDG 13: Climate action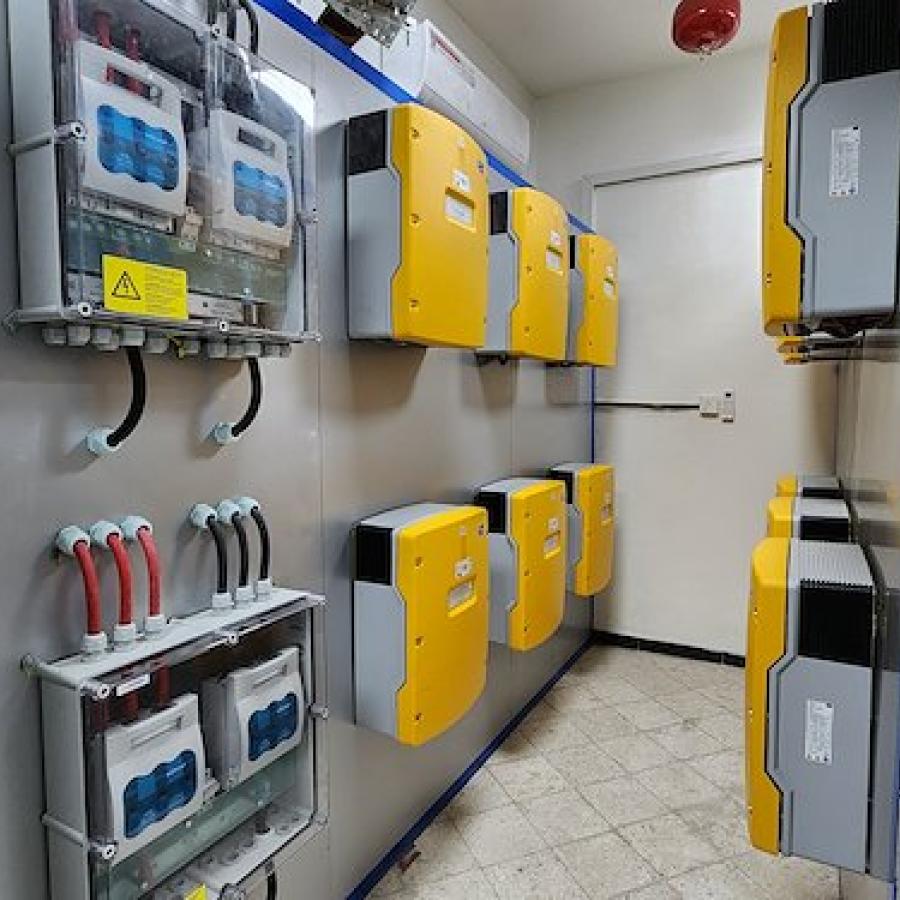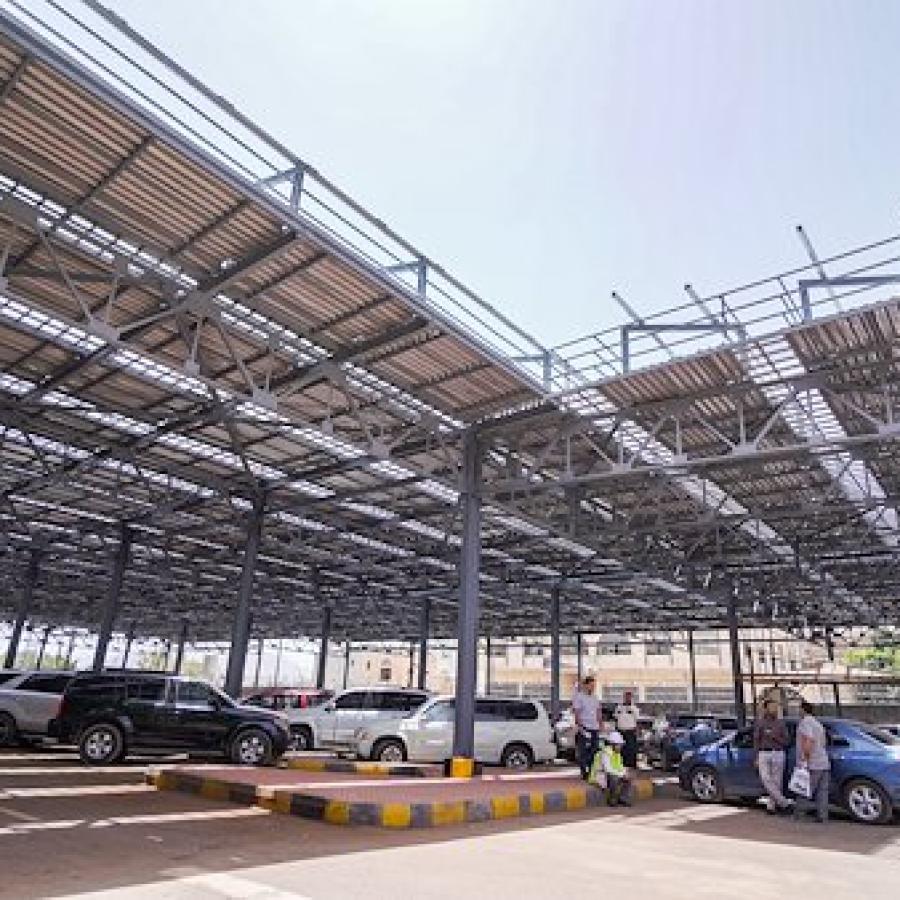 UN entities involved in this initiative
UNDP
United Nations Development Programme