Story
UNDP Yemen: SAMIA: AN EMPOWERED AND RESILIENT RURAL YEMENI WOMAN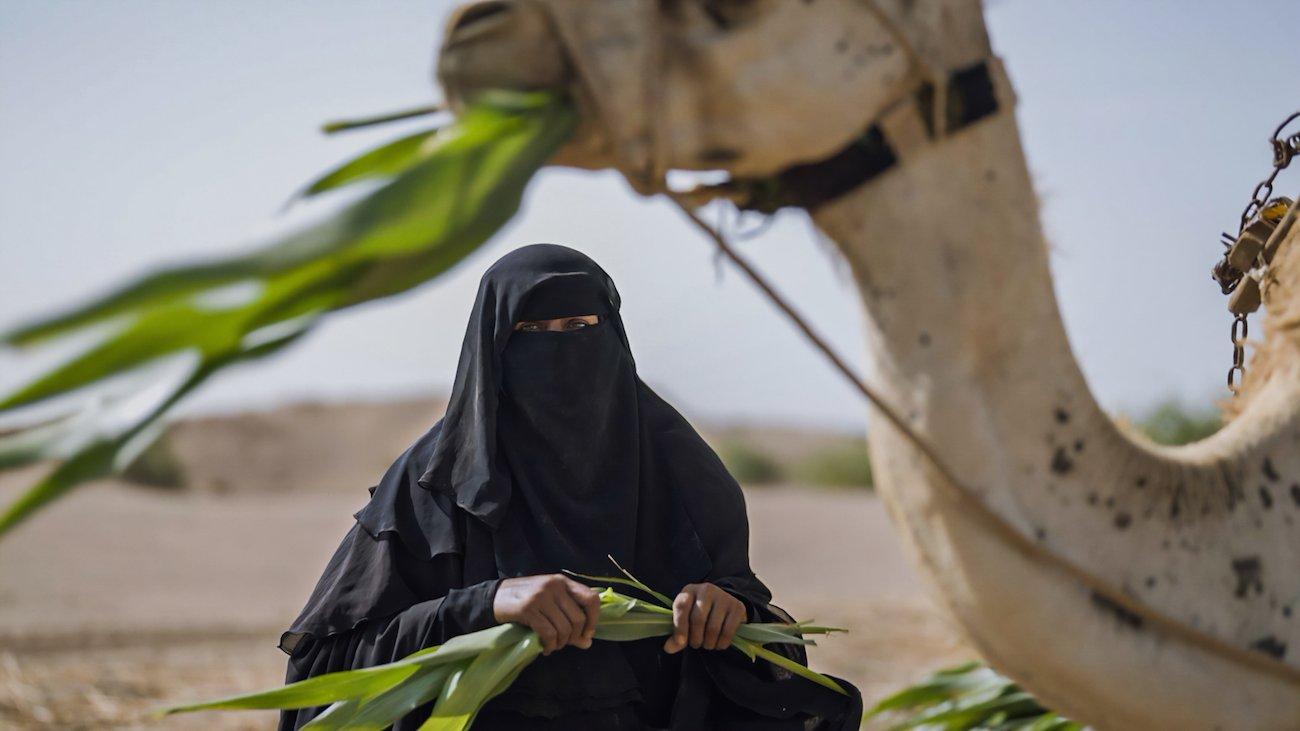 In the heart of Yemen, in Lahj Governorate's Beer Jaber Village, Samia, a 47-year-old woman, is a beacon of hope and resilience for rural women striving to build a better life for themselves and their families. Close to International Day of Rural Women, we celebrate Samia's journey to success with assistance from the ERRY Joint Programme, with the United Nations Development Programme's support with solar panel installation and FAO's involvement in providing Samia with dairy equipment and training on dairy production and livestock rearing. Thanks to generous funding from the European Union and the Government of Sweden, Samia's story reflects not only her personal resilience but also the transformative power of collaboration and support in empowering rural women to build better lives for themselves and their communities.
"I'm deeply attached to the farm, livestock, and land," Samia declares. "I want it to thrive, not decline. The farm means the world to me."
LIVESTOCK AS LIVELIHOOD FOR YEMENI WOMEN
In rural Yemen, livestock is not just a source of food but also a means of generating income. Samia, and many women like her, have learned the art of animal husbandry, from rearing livestock to ensuring they are ready for market. The skills they acquire not only put food on the table but also strengthen their resilience in the face of adversity.
"We wake up every morning with a shared purpose – to overcome challenges and make a better life for our family. The livestock business has taught us not just how to raise animals, but how to rise above our circumstances," shares Samia.
Samia's connection to rural life in Yemen runs deep, starting at a young age. "I have been working in this profession since I was fourteen years old," she proudly recalls. However, the journey wasn't without heartbreak. "I had my father and mother by my side, and then they passed away. My older brothers passed away, too."
But adversity has never deterred Samia's resolve. "I am often asked why I work so hard and exhaust myself," she shares, "I grew fond of raising livestock and became attached to the animals. I have a deep emotional attachment to them."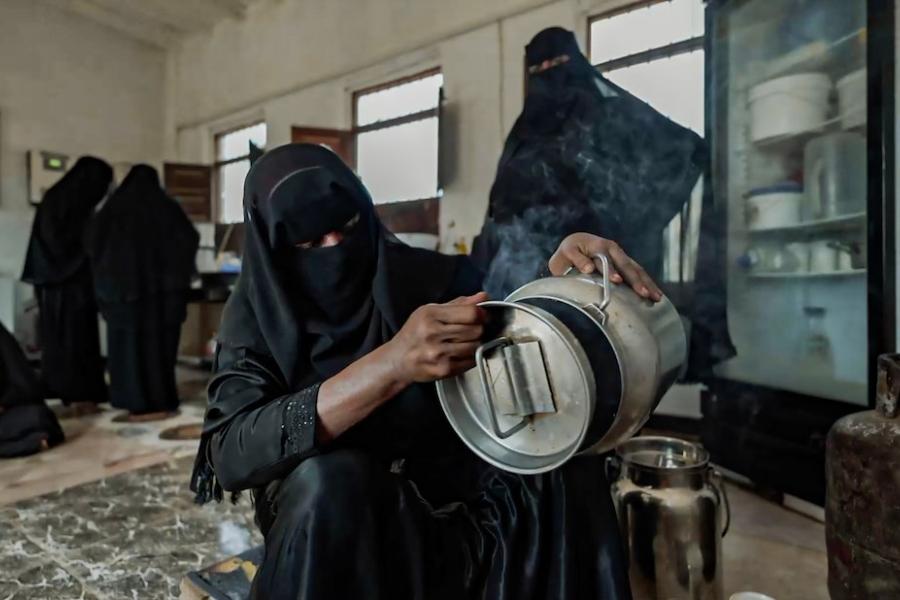 DAIRY DELIGHTS: SAMIA'S JOURNEY TO ENTREPRENEURSHIP
Samia's entrepreneurial spirit led her to establish a dairy center, where she processes various dairy products using raw materials from her own farm. From creamy yogurt to rich butter, Samia's dairy products have become a staple in her village. She didn't stop at mastering dairy production; she also honed her business skills, learning about marketing, supply chain management, and financial management.
Today, Samia proudly boasts about her own dairy brand, "Al Taiseer," distributing her products to local marketplaces.
"We sell yogurt, ghee, and laban. First, we do the milking. After pasteurizing it and allowing it to cool, we set it aside to solidify. Once the mixture has hardened, we store it inside the refrigerator. We shake it well the next morning. Our most popular product is 'laban,' which sells out daily. By 6:30 in the evening, Laban is completely gone from the refrigerator."
Samia's business success serves as a source of inspiration for many, and she emphasizes, "Our journey from dairy farming to dairy entrepreneurship was challenging, but it was worth every effort. We've learned that determination and the pursuit of knowledge can transform our lives."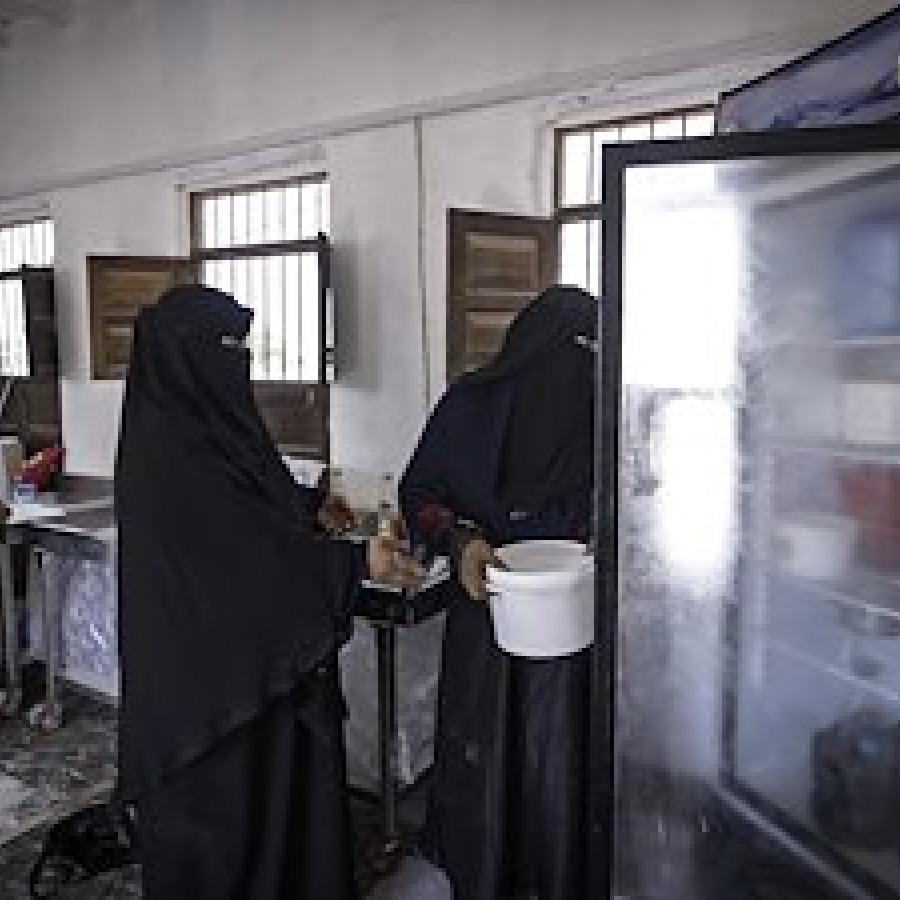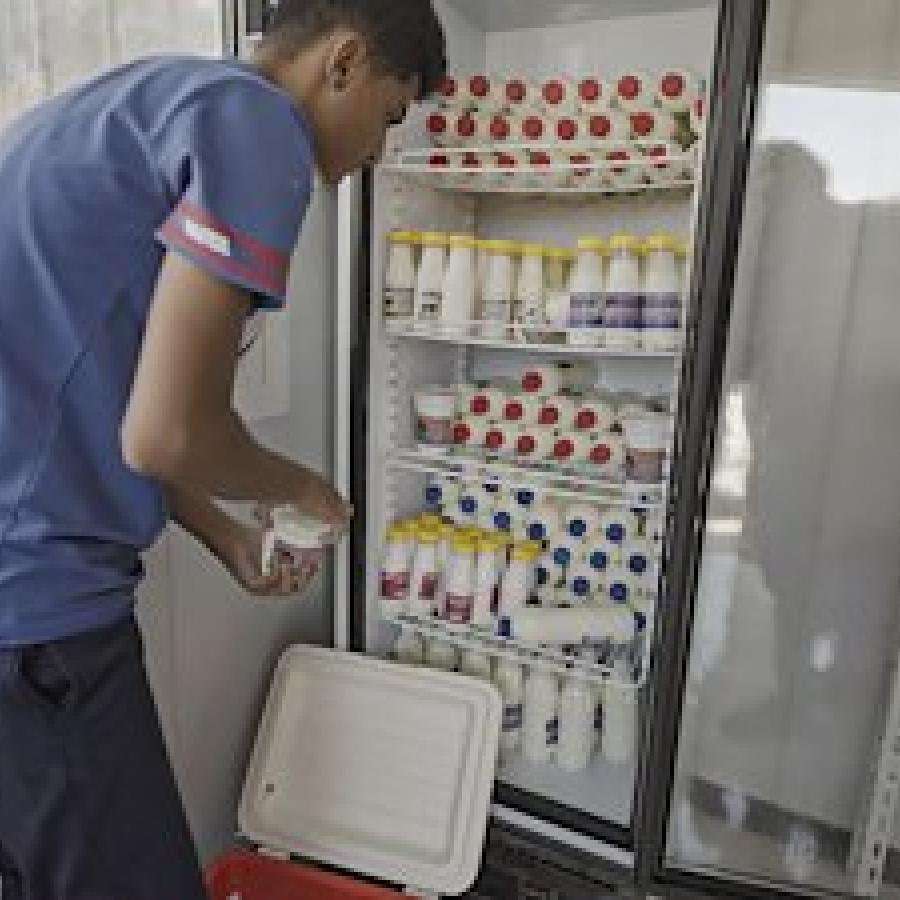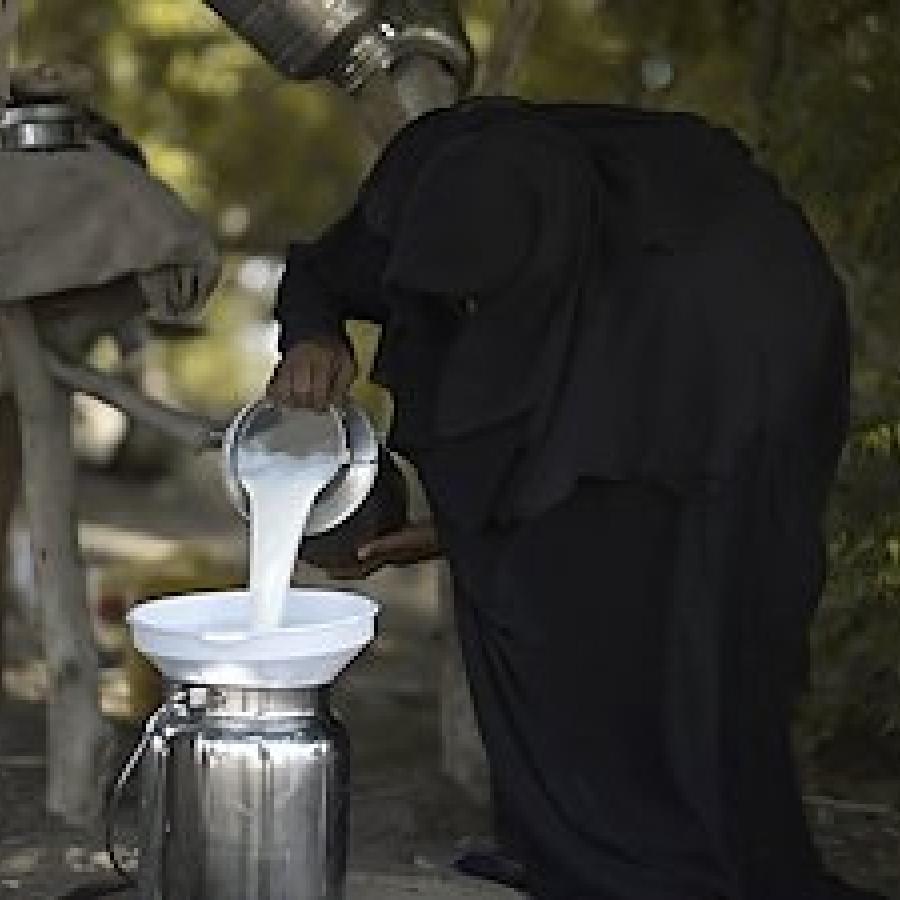 HARNESSING THE BEAUTY OF HENNA
Henna, an integral part of Yemeni culture, is widely used in celebrations and special occasions, symbolizing good health, prosperity in marriage, and deep love between individuals. Samia recognized the potential of henna as a lucrative business opportunity. She embarked on a journey from planting Henna trees to producing high-quality henna paste. Her success has not only benefited her but has also inspired many women in Yemen to start their small henna businesses, contributing to the rich cultural heritage and local economy.
"Henna is beautiful. Owning a business and earning an income is rewarding, even though it can sometimes feel exhausting," says Samia.
"I didn't give up and kept trying until I got it right. The art of Henna is not just about beauty; it's about preserving our traditions while building a better future."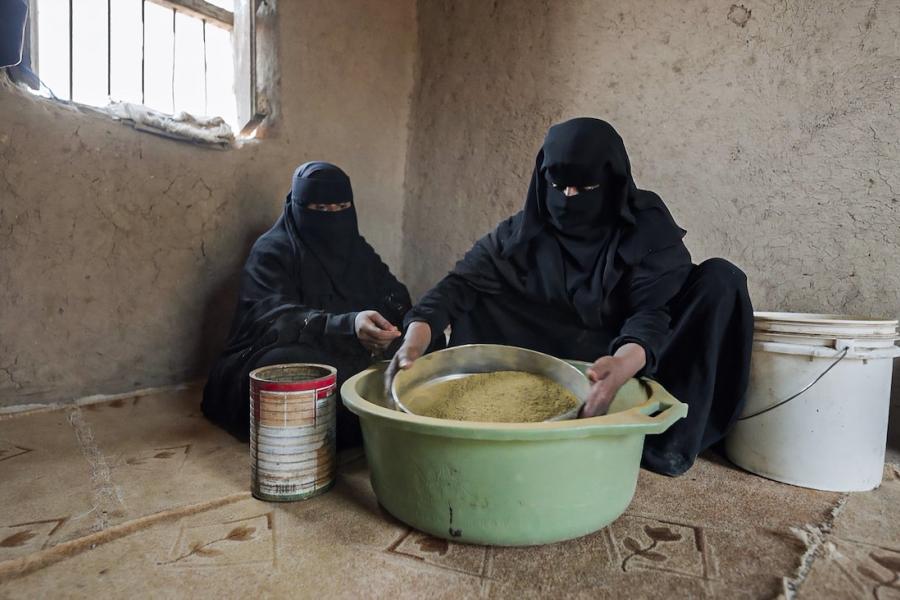 THE POWER OF SOLAR ENERGY
In a nation facing the challenges of power shortages, Samia harnessed the power of the sun to produce her dairy and henna products. Solar energy has revolutionized her business, providing a reliable source of electricity in rural areas. This has significantly increased productivity and expanded her business operations.
"Solar power activates at 8:30 AM when the sun rises, and I release water to irrigate the farmland. Solar energy has illuminated our path to a brighter future. It's not just about business; it's about sustainable development and the well-being of our community."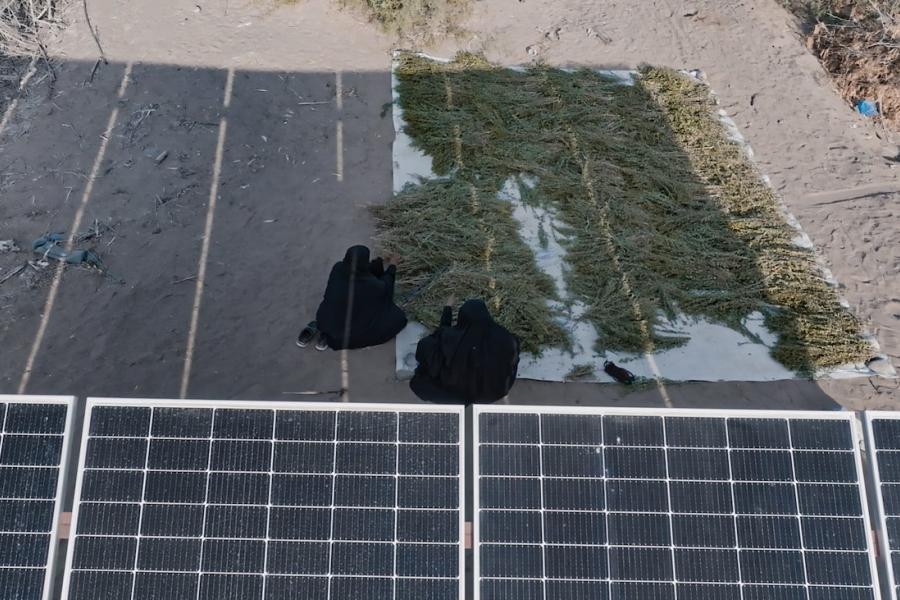 SAMIA'S MESSAGE TO YEMENI RURAL WOMEN
"My message on International Day of Rural Women is to encourage women to focus on their businesses and become self-sufficient and self-reliant in generating income. Despite the challenges that come my way, I'm still able to have multiple sources of income from different businesses that enable me to support my household. I am proud of my accomplishments."
Samia's inspiring journey demonstrates how UNDP Yemen's ERRY Joint Programme empowers rural women in Yemen. With the generous support of the European Union and Government of Sweden, and collaborative efforts by the United Nations Development Programme, World Food Programme, Food and Agriculture Organization, and International Labor Organization, this initiative has not only changed individual lives but also contributes to enhancing the livelihoods and resilience of communities across Yemen. Inspirational women like Samia are shaping a brighter future for Yemen.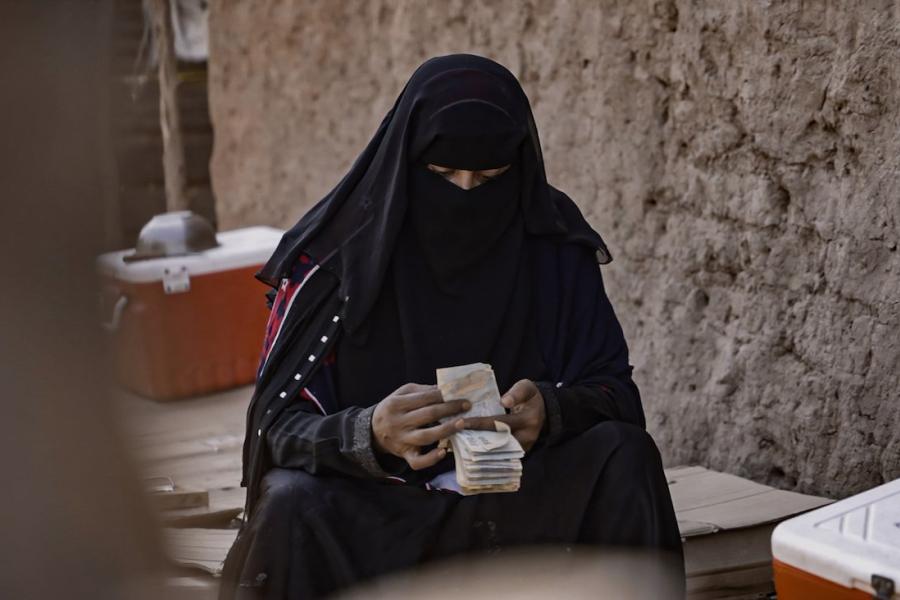 UN entities involved in this initiative
UNDP
United Nations Development Programme