Story
UNICEF Yemen: Community Health and Nutrition Volunteers (CHNV) in Lahj: Joint Efforts for Quality Services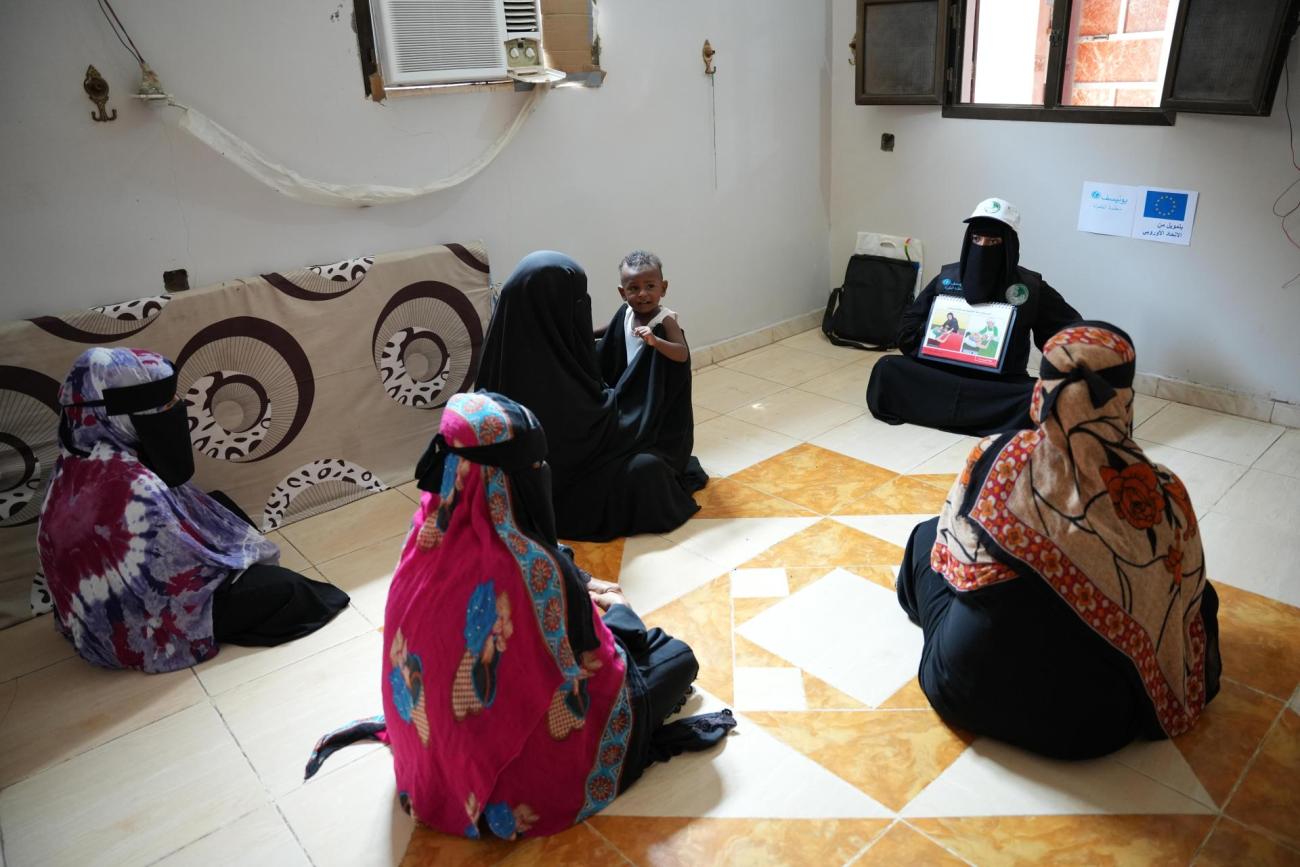 UNICEF and European Union are working together to bring hope and a new lease of life to disadvantaged children in Tuban District
Tuban District in Lahj Governorate faces numerous healthcare and nutrition challenges due to conflict and extreme poverty. Children and pregnant and breastfeeding women suffer from malnutrition as they often lack access to proper and balanced diet because of harsh economic conditions.
"The conditions here are miserable. People are suffering; most of them have no income, and their nutrition is poor. We desperately need help", says Faisal Mohammed, a resident of Al-Khadad village, Tuban District, Lahj Governorate. Describing the dire situation in the district, he added, "My son works as a daily wage laborer, earning inconsistently.I was the main supporter for my family and the families of my sons. I used to work as the transportation manager at Ibn Khaldoun Hospital before I retired 3 months ago." Because of the family's worsening economic situation, his 9-month-old granddaughter Reemas started to show signs of severe malnutrition, continuous weight loss, fever, diarrhea, cough, and chills.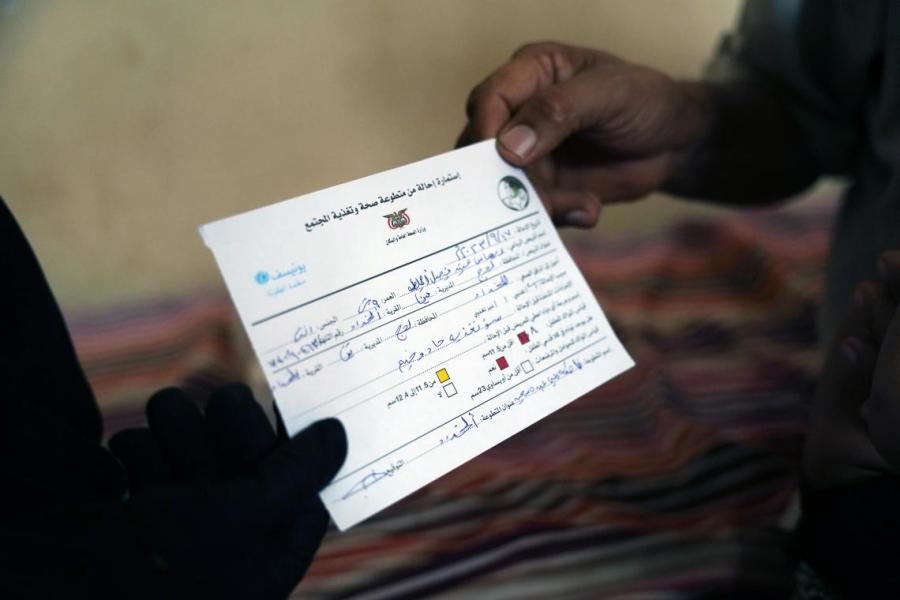 In response to these circumstances, UNICEF - through its regular support programmes - continues to plant seeds of hope and provide humanitarian care through its Community Health and Nutrition Volunteers Project. Under this project, funded by the European Union, UNICEF intends to deliver high-quality basic nutrition and health services to malnourished children, pregnant and nursing mothers in Tuban District, Lahj Governorate. The goal is to improve the quality of life for children in the affected areas and contribute to sustainable development.
This pioneer initiative brings together the expertise and dedication of over 251 volunteers who have been selected based on previous relevant experience to ensure professional and effective service delivery. These volunteers have already examined 1,025 children and 38 adolescents, provided nutrition services to 668 children and infants, and distributed 1,899 sachets of micronutrient powder.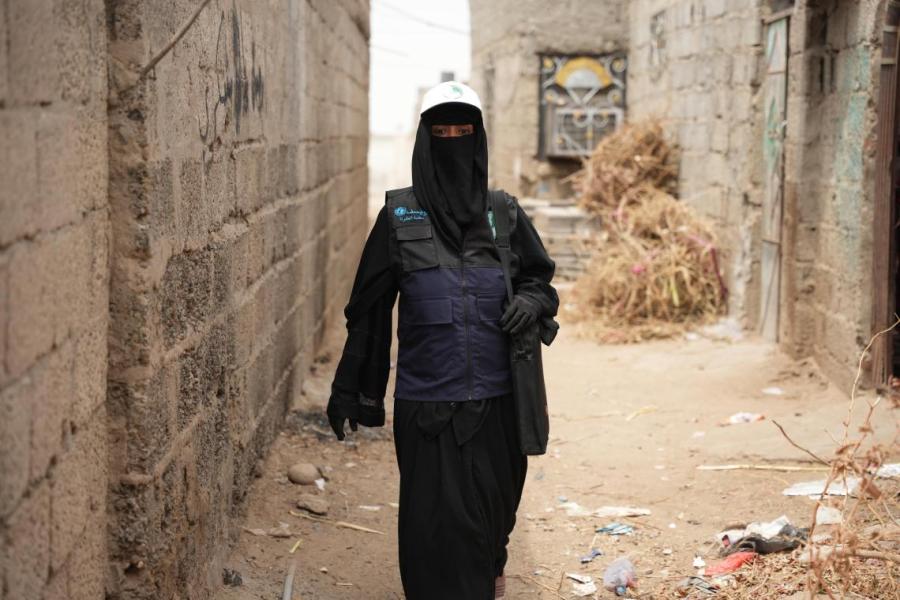 Fatima Ali Abdo Saeed, a health and community nutrition volunteer, has been serving in the Al-Khadad village in Tuban district of Lahij governorate for the past 5 years. She says that her job involves home visits to examine, measure, and weigh children in order to detect early signs of malnutrition and refer cases to health centers. She also examines and measures pregnant womenand breastfeeding mothers, provides them with folic acid, along with other necessary support and education.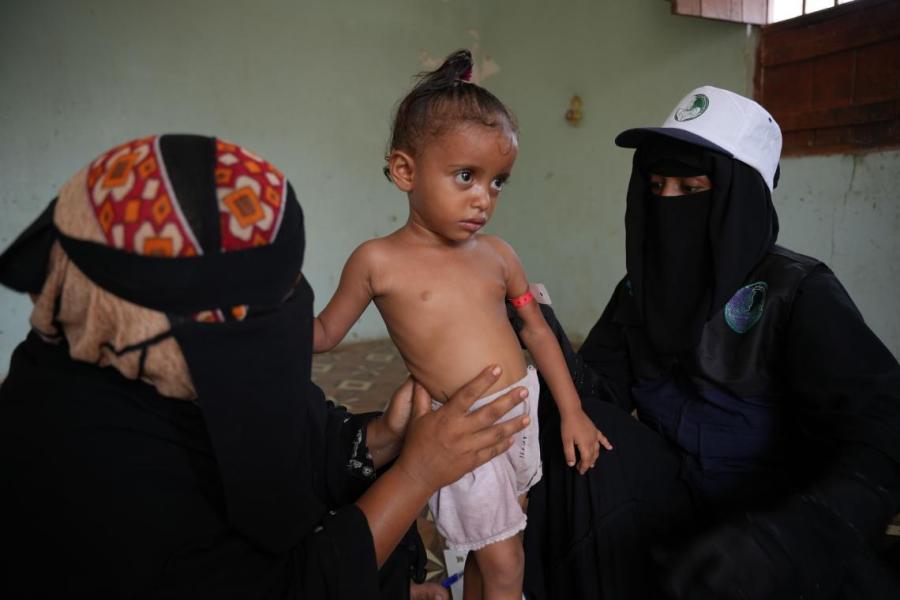 "Lovely Fatima - May God bless her - comes to our house every now and then. She regularly measures the weight of the children and educates us on how to breastfeed and take care of them." Lool Ali, the mother of baby girl Radhia
The community volunteers play a crucial role in sharing information with families about basic health and nutrition issues, assess the condition of children through examinations and measurements, and then refer cases with malnutrition to health centers for treatment. Following the home visits and examinations conducted by the volunteers, the 28-month-old Radhia was diagnosed with malnutrition. "The little girl doesn't eat well; she consumes very little food. Sometimes she gets fever, and other times she has diarrhea. We rely on medication. When volunteer Fatima visited us, she examined and weighed Radhia, and it turned out she was underweight. Fatima referred her to the health center for treatment," Radhia's mother, Lool Ali, explains.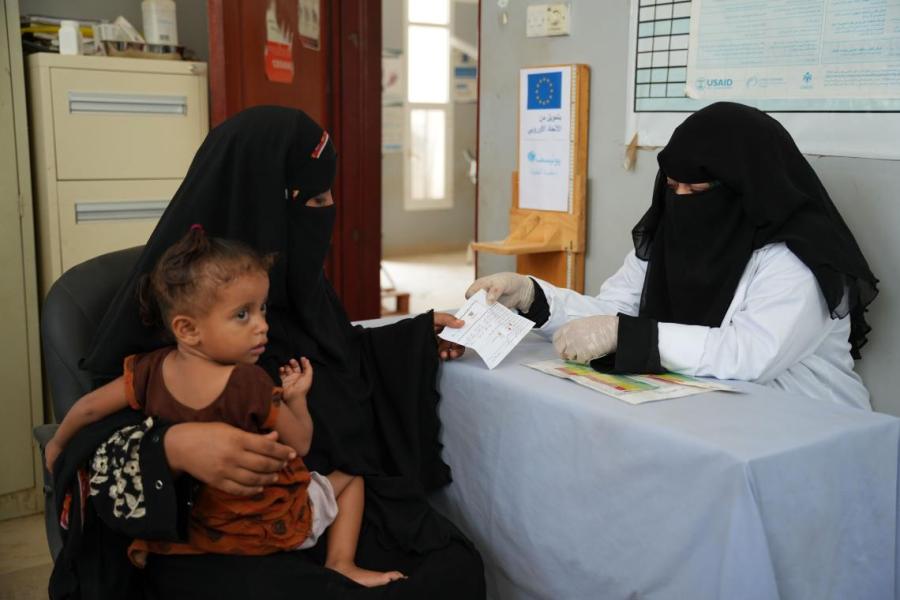 Receiving referred cases, Dr. Arwa examines the cases, measures their weights, and monitors their growth. She also provides them with necessary treatment and follows up on their recovery. "The community health and nutrition volunteers came to my house and examined her. The measurement indicator was red, so they referred the case to the health center. While at the center, she was examined, and nutritional supplements were provided to her, "Faisal Mohammed, the grandfather of Remas, says.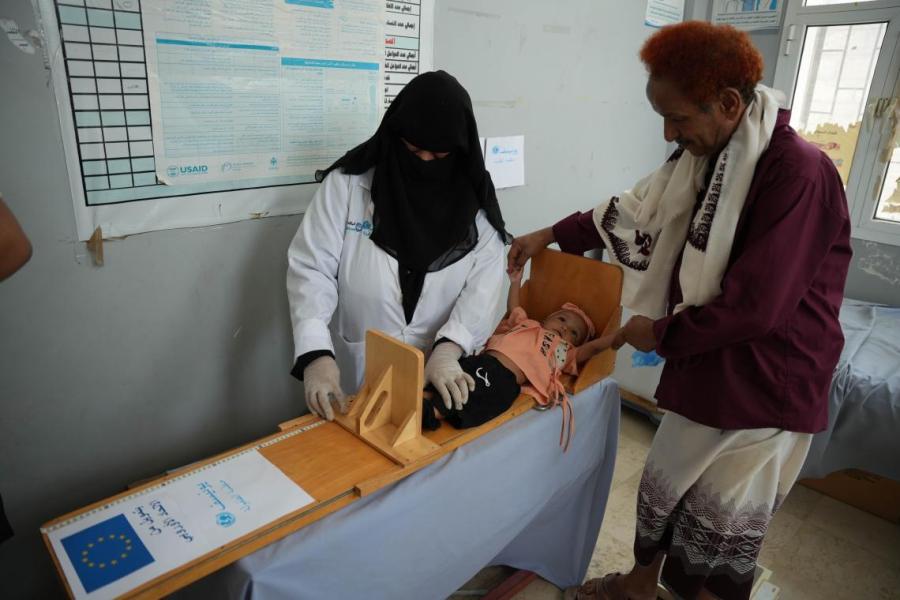 This project demonstrates the great value of volunteer work as part of humanitarian actions and initiatives implemented by UNICEF and its partners. It brings hope to the communities by building confidence to bring about positive change and create a better life and future for children in Yemen.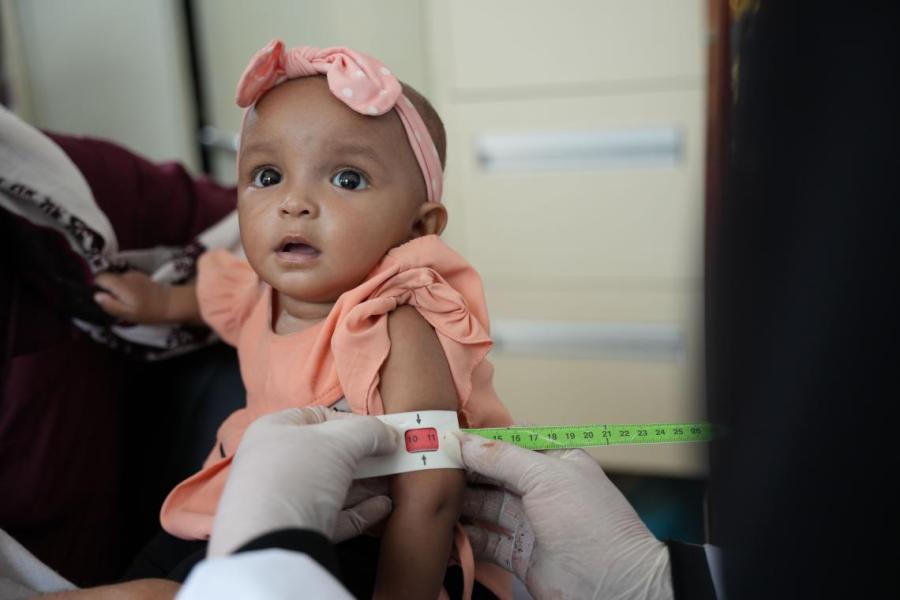 "This assistance addressed the helplessness in the village, and without this support, most children would have been at risk." Faisal Mohammed, Reemas' grandfather
The community health and nutrition volunteers are playing a pivotal role in providing and improving healthcare and nutrition services to local communities while contributing to enhancing health awareness.
Fatima Ali, a community health and nutrition volunteer says, "Currently, there are no malnutrition-related deaths because we monitor the children on a monthly basis. Without such field visits, there would definitely be children, pregnant women, and breastfeeding mothers at risk of death due to malnutrition".
In this context, Dr. Arwa stresses the importance of what they do, saying, "I certainly make a difference in the lives of children by helping them overcome malnutrition and raising awareness among their mothers. Now we can see a significant improvement".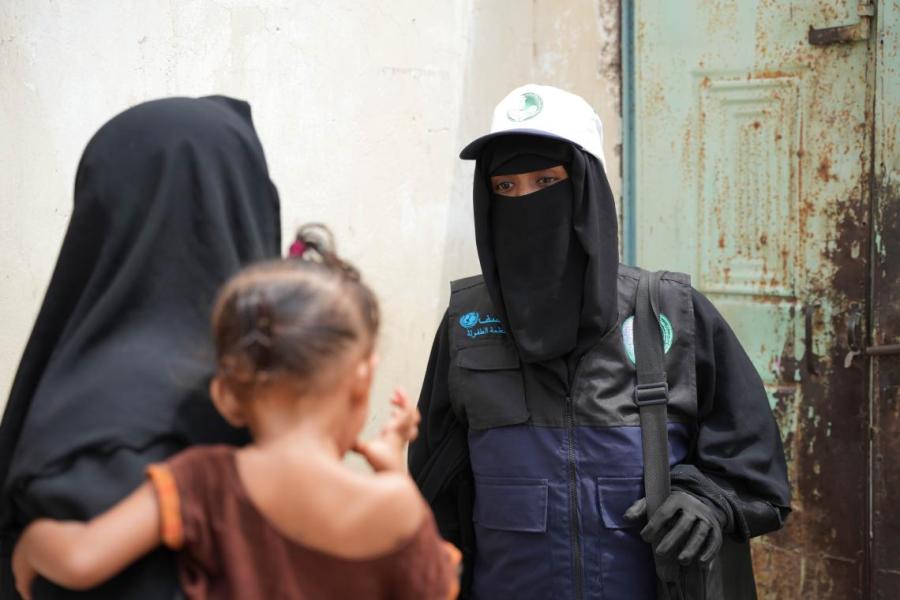 "After Fatima came to us, my daughter is doing much better, thank God. The condition of my children and even my neighbors' children has improved. Our situation is now better. UNICEF's services are excellent. I am very satisfied with the quality of services rendered to us, and I hope they continue forever." Remas' mother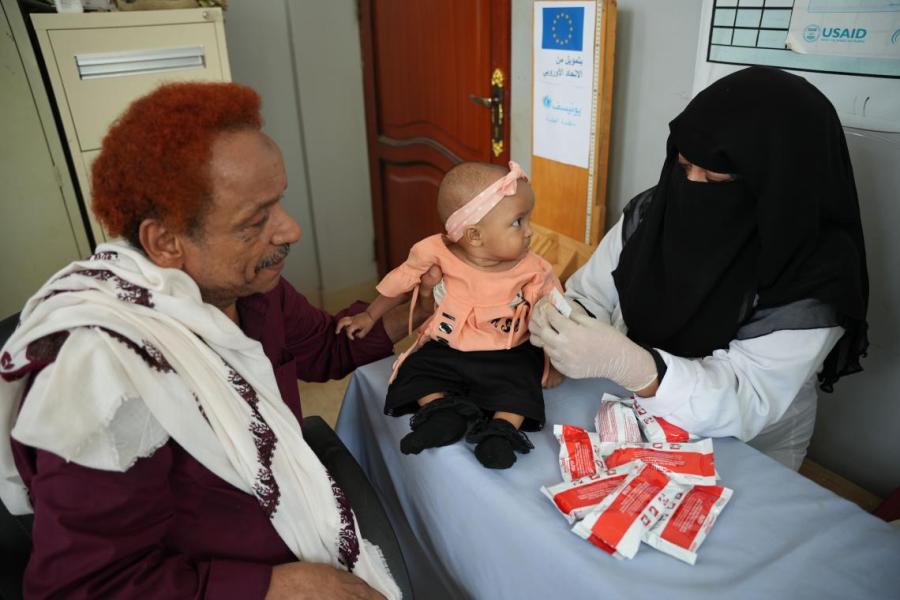 Clear and positive results are being achieved in the daily lives of project beneficiaries. The health of children has improved, and necessary care and appropriate treatment have been provided. Faisal Mohammed says, "The assistance provided by UNICEF and its partners is very good, and children are improving more and more. We want to tell them that this is an excellent initiative, and we hope it to continue nonstop". Actually, this project is concrete proof of the strong commitment to improving healthcare and nutrition in the community, laying the foundation for a healthy and sustainable life for children, breastfeeding mothers, and pregnant women in Tuban District, Lahj Governorate.
UN entities involved in this initiative
UNICEF
United Nations Children's Fund