Story
UNICEF Yemen: A Beacon of Hope: Yemen's Heroes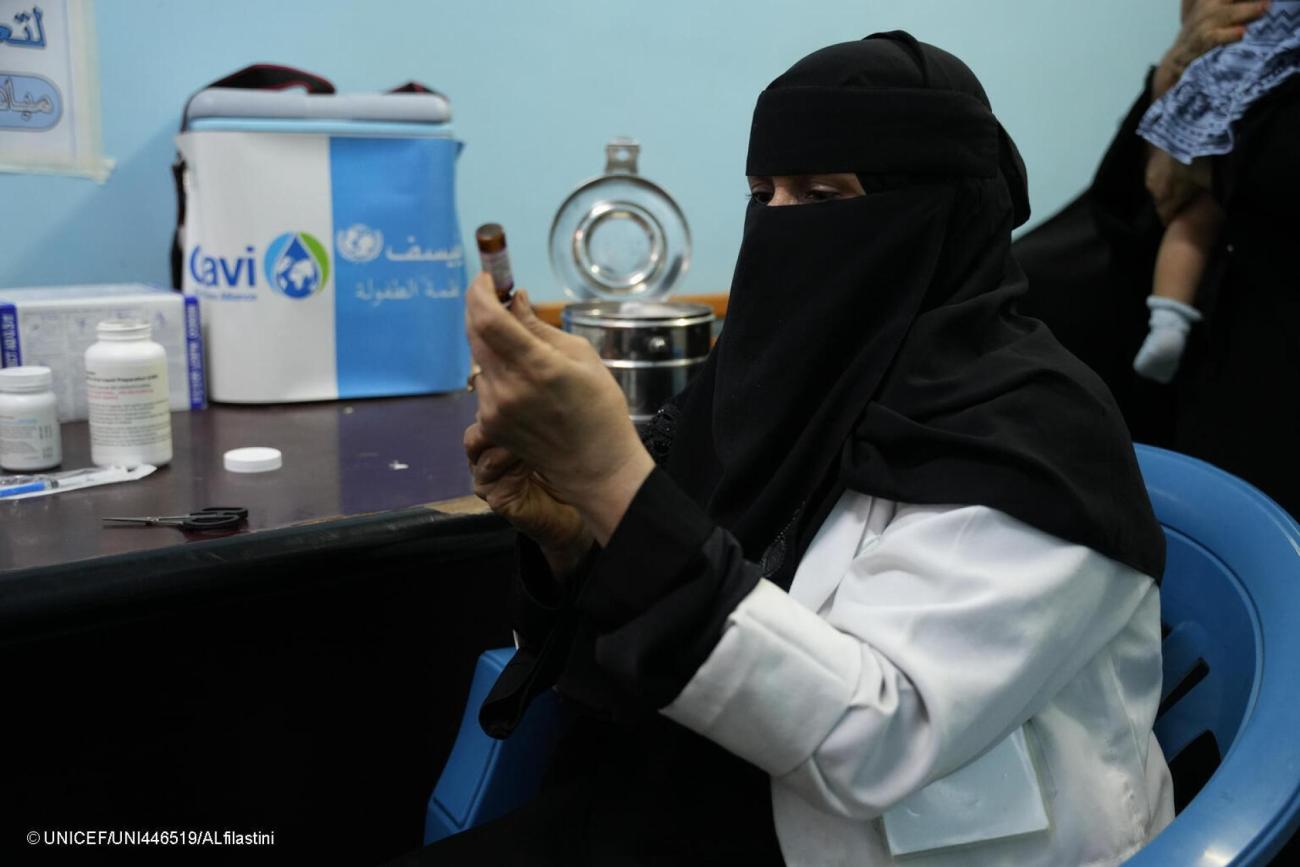 A beacon of light shining through the darkest of times
In war-torn Yemen, where the sounds of conflict and hardship have dominated the headlines for far too long, a different story is unfolding. It's a story of hope, resilience, and compassion that has largely gone unnoticed. It's the story of the measles and rubella immunization campaign, a beacon of light shining through the darkest of times and managed by the Ministry of Public Health in Aden and supported by UNICEF and WHO. This involved remarkable efforts of the country's dedicated frontline health workers and brilliant children coming together to respond to the evolving outbreak of the highly contagious and deadly measles which could have been easily prevented by doses of vaccines.
Amidst adversity, heroes emerge
In Yemen, where nearly 80% of the population requires humanitarian assistance, providing basic healthcare has become a challenge of epic proportions. But amidst the chaos and suffering, a group of unsung heroes emerged. These heroes, Yemen's frontline health workers, made it their mission to protect the most vulnerable - the children - from preventable diseases like measles and rubella.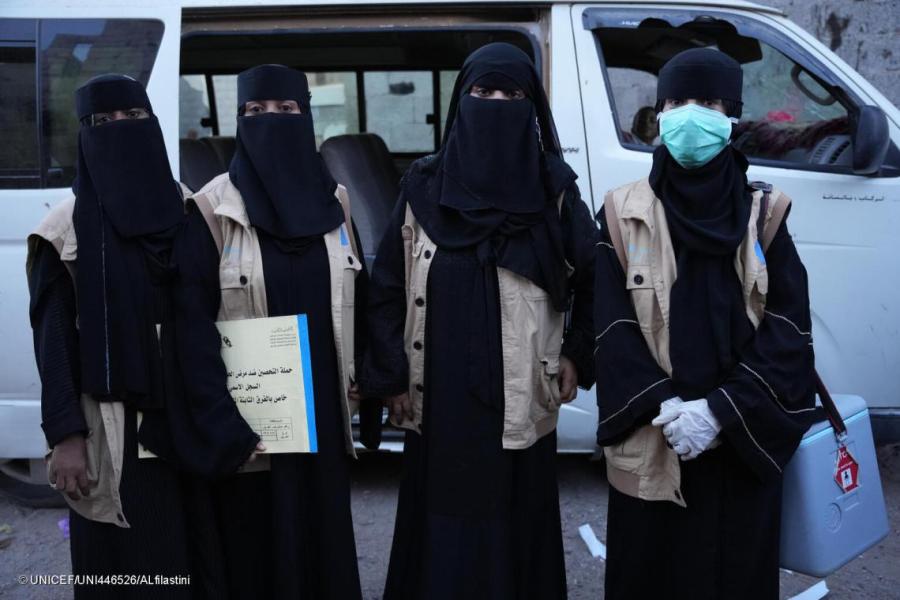 Dr. Abeer Mohammed, is one of the many health workers leading the charge in this measles and rubella immunization campaign. She and her team work tirelessly to reach remote areas and IDP camps, navigating through rugged terrain and often putting their own safety at risk. Dr. Abeer leads a mobile team of four health workers supported by UNICEF, which normally roves all day between the IDP camps in Aden to serve the most vulnerable groups – displaced people – by providing integrated health and nutrition services.
During this campaign, Abeer and her team decided to dedicate their time and efforts to back the ongoing immunization campaign. In the high-burden districts of AlBurayqa and Dar Saad in Aden, Abeer and her team have successfully reached the children in need.
"I have seen many children suffering from measles during my visits to the IDP camps and marginalized communities, so when I learnt about the campaign I decided to dedicate my team efforts to contribute to reaching the most vulnerable children and protecting them against this deadly disease", says Dr. Abeer.
"We access the most difficult and remote places every day to reach every single displaced and marginalized child. This is our message and that keeps us motivated to go on the next day to reach even higher number of children from the previous one," Dr. Abeer added.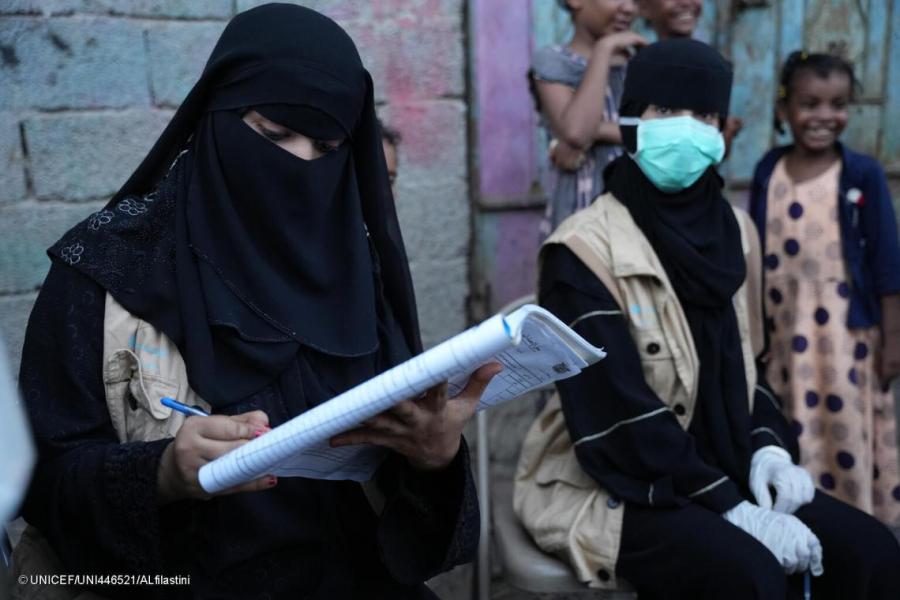 This mobile clinic team has been able to reach 380 children per day. This is an outstanding commitment and dedication the team is demonstrating despite the very hot and difficult weather in Aden. The efforts of these tireless health workers have not only ensured the vaccination of hundreds of children but also brought a glimmer of hope to these vulnerable families and their children.
The Little Unsung Heroes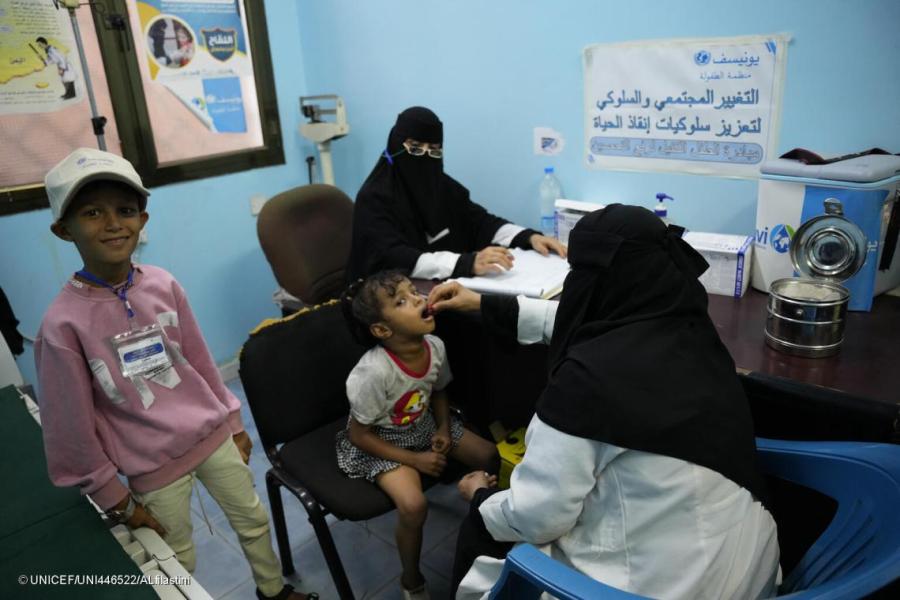 Recognizing the importance of social mobilization in all immunization campaigns, UNICEF and the Ministry of Public Health and Population have implemented local solutions to bridge the gaps and try to reach all children with the necessary doses. Child-to-child awareness programs supported by UNICEF under the name of "Sponsor a Child" have been initiated, encouraging young ones to educate their peers and their mothers about the importance of immunization. Today, a heartwarming case from UNICEF's field monitoring in AlSheikh Othman district exemplifies the success of these efforts. A young boy named Mohsen Mukhtar, armed with knowledge about the campaign, convinced one of his peers to visit a temporary vaccination site in Dar Saad district of Aden. He ensured that the friend got the measles and rubella vaccine and vitamin A dose and inspired other children in the community to follow suit.
"My ultimate happiness is to see my friends and all the children healthy and happy. Through the 'Sponsor a Child' program, I mobilize people to get vaccinated all the time but during the campaign, I set for myself additional targets to reach" says Mohsen.
"I feel happy and relieved when I am able to convince and bring my peers to get their immunization dose at the health facility. I feel proud of myself, and I want to thank the UNICEF Social Behaviour and Change team who educated me about the importance of vaccines and equipped me with the required skills to convince my peers to go and get their immunization doses", Mohsen added.
UNICEF Yemen launched the "Sponsor a Child" initiative to increase child immunization coverage among the targeted populations in Yemen. As a result of these tireless efforts by those tiny heroes, over 15,000 children have taken their measles and rubella doses since the beginning of the campaign.
As the measles and rubella immunization campaign - which targets 1.2 million children between 6 months and five years in 13 governorates in southern and eastern governorates - continues in Yemen, the collaboration between the MoPHP, UNICEF, WHO and GAVI linking with health workers, and local communities remains steadfast. Despite the challenging circumstances, the determination to protect Yemen's children from these diseases is unwavering. Through their collective efforts, they are not only saving lives but also sowing the seeds of a healthier and brighter future for the children of Yemen.
UN entities involved in this initiative
UNICEF
United Nations Children's Fund