Story
YEMENI CLIMATE HEROINE, IMAN HADI, GOES TO COP 27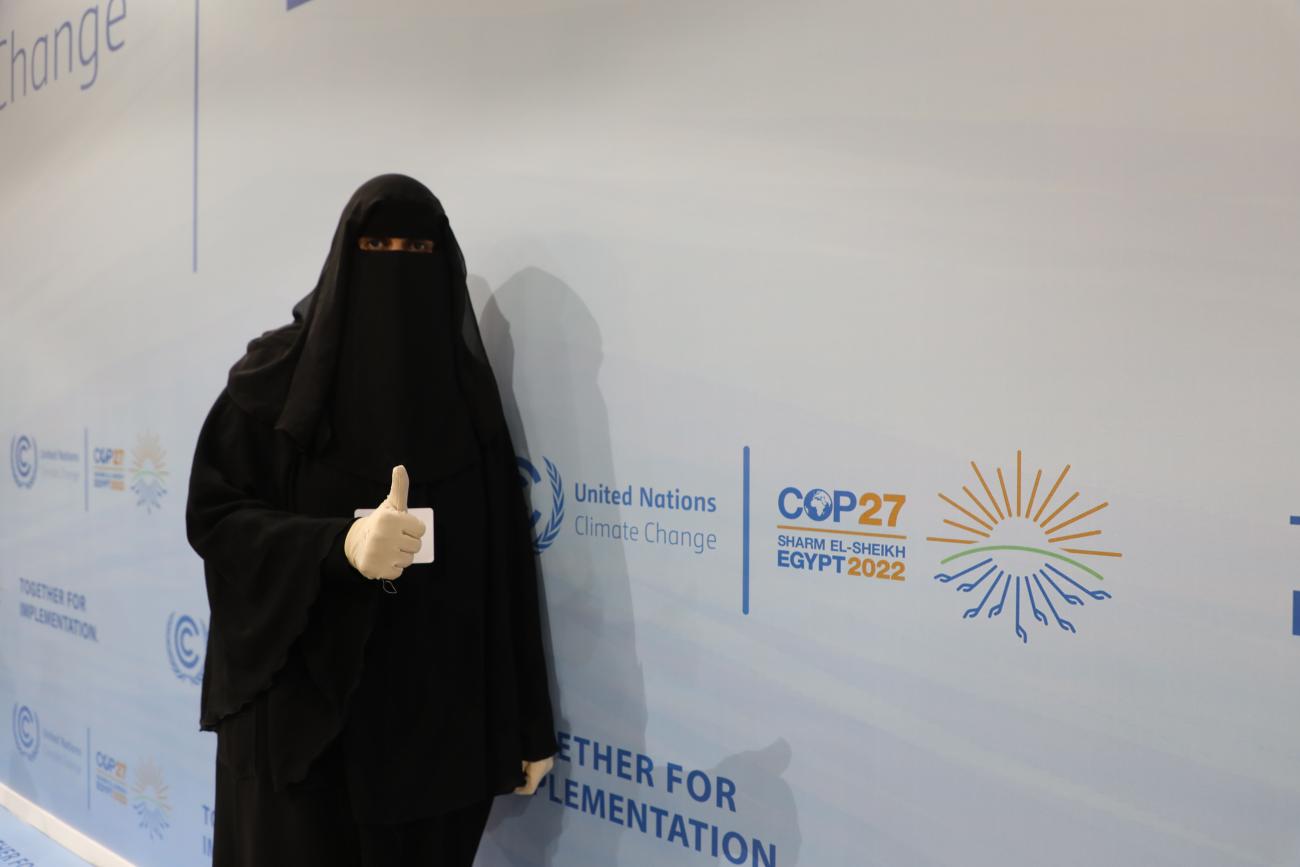 From Rural Yemen to a Global Stage
Climate change is a global threat and a vicious cycle. It contributes to food insecurity, hunger, and poverty – especially where people are already vulnerable. And vulnerabilities and risks are increased by climate-related disasters as they disrupt livelihoods, severely impact human rights, and endanger lives the world over.
Yemen's already challenging humanitarian and development situation, characterized by socioeconomic deterioration, is even further threatened by climate change.
The country's recurrent natural disasters and torrential rains brought on by climate change and high temperatures has caused significant drought and severe floods across the country. Recent years have seen increased levels of fatalities and destruction, and the spread of communicable diseases has been unprecedented. Coupled with severe damage to agricultural lands, this has adversely affected the economy and livelihoods – particularly in rural areas.
With Yemen's protracted conflict, Yemenis'– especially women – have little means to adapt to climate change and respond to these recurring and new shocks. Women are often the most vulnerable to climate change with little to no access to resources such as water, energy, or capital.
But Iman Hadi and her micro-grid team of nine other women are quickly changing this reality in rural Yemen.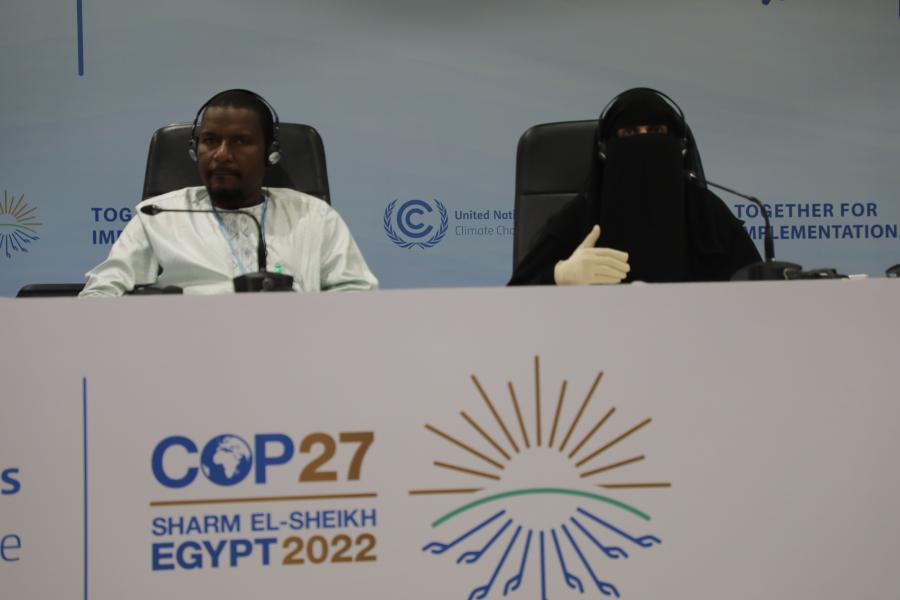 RURAL WOMEN CONTRIBUTE TO CLIMATE-RESILIENT COMMUNITIES
Little did Iman Hadi know how much her world would change when she and nine other women presented a project plan to the United Nations Development Programme's (UNDP) component of the Supporting Resilient Livelihoods and Food Security (ERRY) Joint Programme. They proposed operating and managing a solar micro-grid plant in Abs district, one of the most vulnerable areas located on front lines of the conflict in northern Yemen.
Over the past four years, they have successfully built up the first-ever private solar micro-grid station to provide radically cheaper and clean electricity for 53 low-income households in their community. This decentralized solar solution improved access to energy and reduced the impact of energy production on the already fragile natural environment.
Since the beginning of the project, it has reduced 34,560 kilograms of emissions of greenhouse gases (GHGs). This is equivalent to 85,785 miles driven by an average gasoline-powered passenger vehicle or 38,238 pounds of coal burned. It has also contributed to improving livelihoods throughout the community as the grid both allows for the creation of jobs.
UNDP's gender-sensitive business model allowed for removing the social, economic, and cultural obstacles that prevent women from participating in climate change adaptation measures.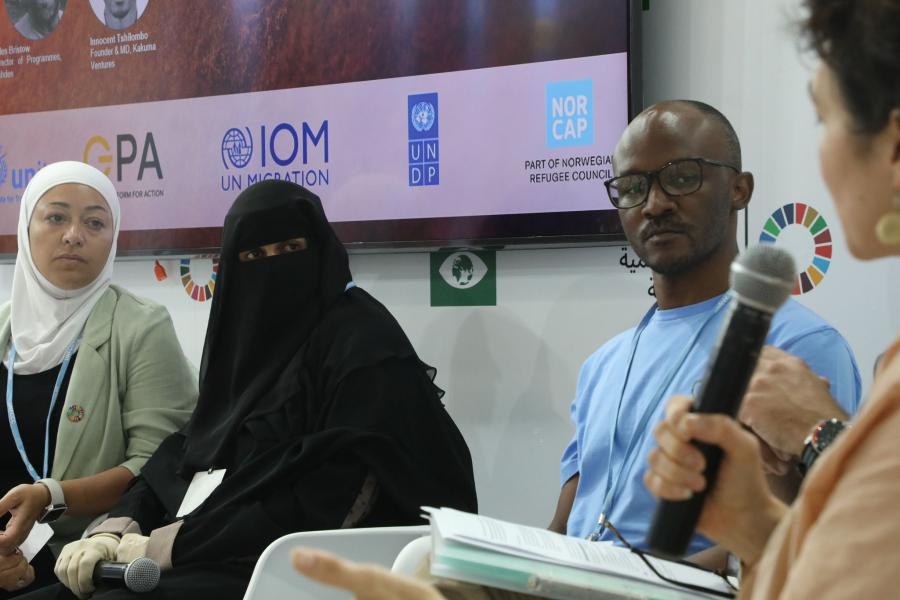 COP27: INSPIRING OTHERS IN THE FACE OF ADVERSITY
After a tiresome four-day journey from her village, Iman finally reached Sharm El Sheikh to participate as a panelist in the United Nations Conference of the Parties on Climate Change (COP27). A dream she would have never imagined four short years ago.
Over three sessions in three different pavilions, Iman inspired hundreds with her story. Through it all, she remained humble, thinking of her fellow Yemeni women and specifically about how her team challenge the deep-rooted conservative traditions and stereotypes about women around establishing and managing their own businesses
She spoke about the pioneering role of women in confronting climate change and inspired other young leaders working on climate resilience and environmental protection. Seeing the bigger picture for a brighter future in Yemen, she noted that "Solar solutions could promote long-term adaptation in Yemen, generate sustainable energy, create livelihoods opportunities, and solve the climate risk issue."
Iman also participated in a session in UNDP's pavilion discussing how gender, innovation, and technology can address the risks of climate change. "I sincerely hope that I conveyed the voice of all Yemeni women, not only mine."
Despite economic, social, and environmental differences, Iman noted that one thing COP27 proved is that "we are all suffering from the same issues, especially the imminent risk of climate change. We must all take immediate action!" 
FROM HUMBLE BEGINNINGS TO ENTREPRENEUR
In 2019, the forty-year-old Iman started her career as a manager of a limited-capacity solar micro-grid plant, hoping to help the many community members without electricity because of the lack of a national grid or the skyrocketing fuel prices. UNDP provided the team with the solar grids and training in business management and operations as well as the necessary specialty care such as battery maintenance.
The beginning was difficult, and Iman had to overcome numerous challenges – both financial and social. "The project was not easy to get off the ground," explains Iman. "We went through a lot to establish this project because of the perspective Yemenis have on working women," she indicated. But she was no stranger to difficult situations – like the other six million displaced Yemenis, Iman had to flee her home to avoid armed conflict. But, like many, she knew she wanted to re-establish a life for herself and her family. Iman had big dreams.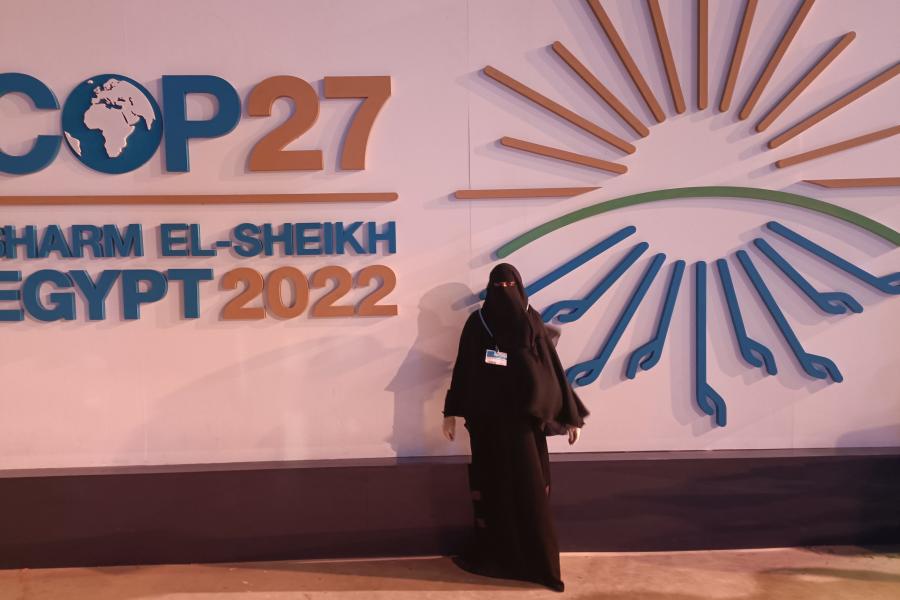 These dreams grew over time, as did Iman's sense of obligation to her community. She continued to work harder and more diligently, and she very wisely invested her portion of the solar micro-grid's earnings to expand her business. Iman's dreams did not stop, and her resolve did not weaken as she continued to work on her project. She was confident that one day she would see her dreams translated into reality.
Today, Iman has expanded her business to include microloans to members of the community to start-up businesses, hire employees, and get back on track if needed. She has been able to change the landscape of her community one loan at a time – strengthening the economic situation in the community and bringing hope and dignity back to many in this frontline community.
What Iman did not expect was that she would also succeed in changing the traditional role and way the community views women. Before the solar micro-grid, the community and others were skeptical of the business, particularly that it was owned and operated by women. But through hard work, patience, perseverance and good business sense, Iman has become a well-respected and beloved pillar of the community. She has single handedly changed the image of women in rural Yemen. 
So it stands to reason that, in 2020, Iman and the solar micro-grid business would be selected for the prestigious Ashden Award for Humanitarian Energy. Instead of diesel costing 42 cents an hour, solar energy costs only 2 cents, enabling the average person access. Cutting the cost of energy by 65 per cent, the solar microgrids offer an alternative, clean and renewable energy source that allows rural homes and businesses the ability to afford undisrupted electricity for hours.
Iman's success did not stop there! Also in 2020, she was selected as one of the BBC's 100 Most Influential Women in the world for promoting positive change, making a difference amid Yemen's volatile times, and delivering clean, low-impact electricity.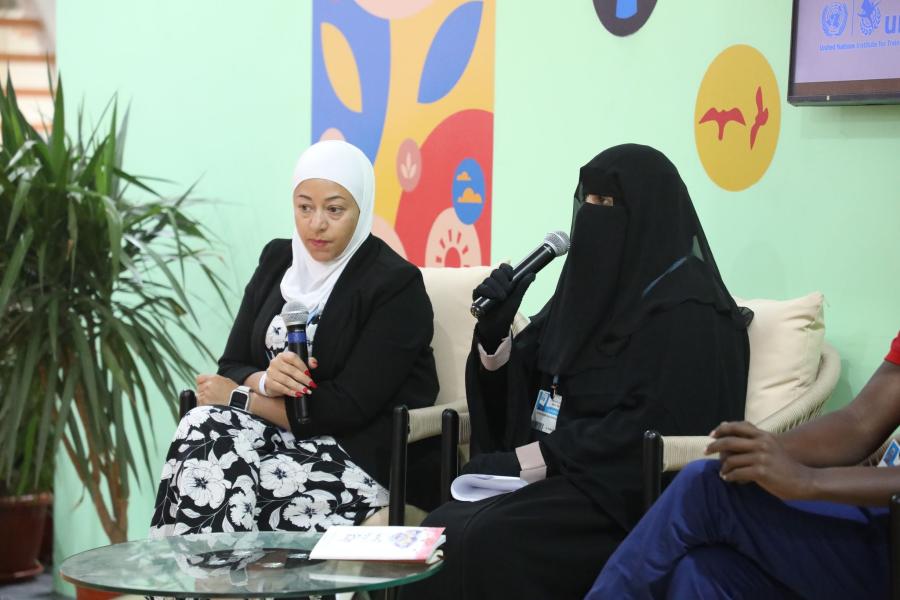 ERRY'S JOINT PROGRAMME ROLE TO CLIMATE ADAPTATION IN YEMEN
Before the conflict started in 2015, only 23 per cent of Yemenis had access to energy. The crisis has led to a deeper energy-related problem as fossil fuels continue to surge and embargos make it more difficult to obtain. Non-grid electrified rural households- accounting for 75 per cent of the total population - were using alternative lighting devices such as kerosene lamps (about 67 per cent) and liquefied petroleum gas (about 5 per cent) which have severe impacts on the environment.
Before the crisis, the cost of 20 litres of diesel was US$ 7; today it costs up to US$ 40, and is often hard to come by, even in stations. The UNDP programme has enabled communities' access to affordable energy when there are no other viable solutions, by applying unique, low-cost, and sustainable solar microgrid solutions.
Under the European Union (EU) and Swedish International Development Cooperation Agency (Sida) funded project, ERRY JP, UNDP has supported a range of decentralized off-grid initiatives. This includes, for example, the installation of solar power systems for a range of public services like schools, healthcare centres, and public offices while also working to help develop business models that enable income generation for rural Yemenis.
To date, more than 196 public services have been solarized since 2019, benefitting tens of thousands and allowing public services to resume critical functions and duties like during the cholera outbreak and the COVID-19 pandemic. Under the project, UNDP has created the market and demand for access to cheaper and cleaner energy amongst rural and poor, conflict-effected communities.
The ERRY JP is implementing the third phase of the project, aiming to strengthen resilience of the population in the most vulnerable governorates in Yemen. The US$ 49 million joint programme supports the creation of sustainable livelihoods opportunities through enhancing food security, employment, community assets restoration, social basic services, agricultural value chains, gender equality and women's economic empowerment as well as access to renewable energy.
The three-year programme (March 2022 - Feb 2025) is funded by European Union (EU) and Sweden and is jointly implemented by the United Nations Development Programme (UNDP), the Food and Agriculture Organization (FAO), International Labour Organization (ILO) and the World Food Programme (WFP).
UN entities involved in this initiative
FAO
Food and Agriculture Organization of the United Nations
ILO
International Labour Organization
UNDP
United Nations Development Programme