Good practices and lessons learned: solar interventions under ERRY Project in Yemen
The Enhanced Rural Resilience in Yemen Programme (ERRY) is a three-year programme funded by the European Union and implemented by four UN agencies: the United Nations Development Programme (UNDP), the International Labour Organization (ILO),the World Food Programme (WFP), and the Food and Agriculture Organization (FAO). The overarching objective of the programme is to enhance the resilience and self-reliance of crisis-affected rural communities by supporting livelihoods stabilisation and recovery, local governance, and improving access to sustainable energy. The ERRY Programme has been implemented in four governorates: Abyan, Hajjah, Hodeidah, and Lahj.
As part of its contribution to the ERRY solar interventions, UNDP conducted this study with an aim to identify good practices in Yemen. Such results could bear great significance to the humanitarian and development agencies, resulting in reconsideration of policy and programme design aimed at increasing impact at the community-level. Furthermore, the development of an operational guideline will support agencies, the private sector,and communities to overcome operational bottlenecks.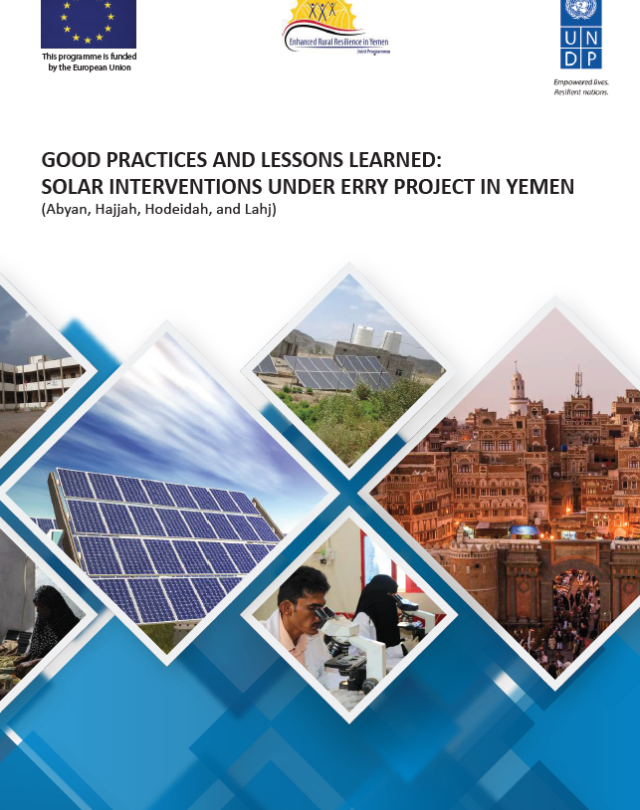 Goals we are supporting through this initiative