IOM Yemen Situation Report | April 2019
SITUATION OVERVIEW
Yemen is facing the largest humanitarian crisis in the world. With the conflict in its fifth year, widespread instability, severe economic decline, food insecurity and the collapse of essential public services continue to take an enormous toll on the people of Yemen.
With offices in Sana'a, Aden, Al Hudaydah and now Marib and satellite presences in all 22 governorates, IOM supports the most vulnerable groups throughout Yemen, including displaced people, conflict-affected communities and migrants. Throughout April, humanitarian access was limited while needs remained immense. Irregular migrants continued to enter the country in similar numbers to 2018 when approximately 150,000 migrants arrived in Yemen, according to the International Organization for Migration's (IOM) Displacement Tracking Matrix (DTM). Towards the end of April, migrants began to face a strict detention policy in Aden, Abyan and Lahj governorates.
IOM provides a multisector humanitarian response, namely health, water, sanitation and hygiene (WASH), shelter, non-food items (NFI) and cash-based assistance, camp coordination and camp management (CCCM), protection and displacement tracking. In April, IOM continued to expand its operational capacity through the ongoing establishment of its Marib sub-office and humanitarian operational hub, helping reach under-served displaced and conflict-affected communities and migrants.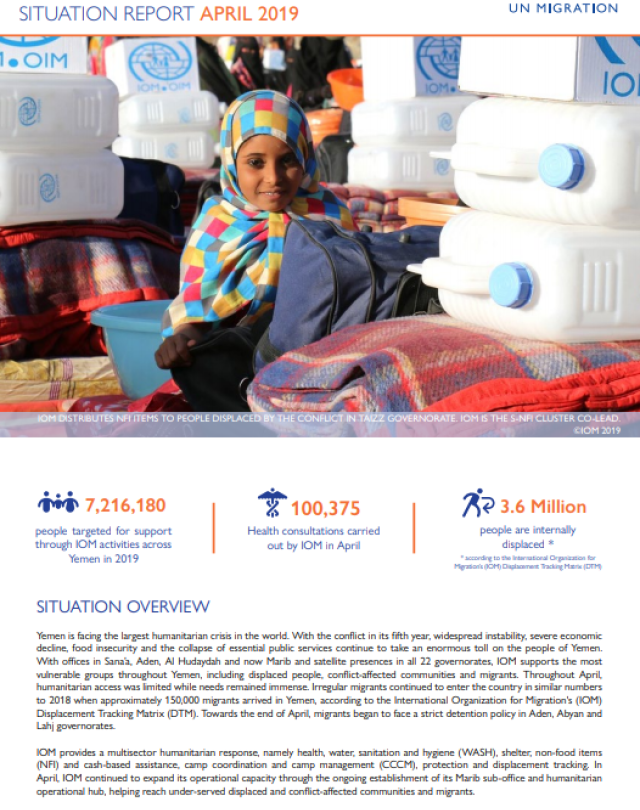 Goals we are supporting through this initiative