Story
UNICEF Yemen: Breaking the Cycle: UNICEF's Basic Literacy and Numeracy Programme Transforms Lives in Yemen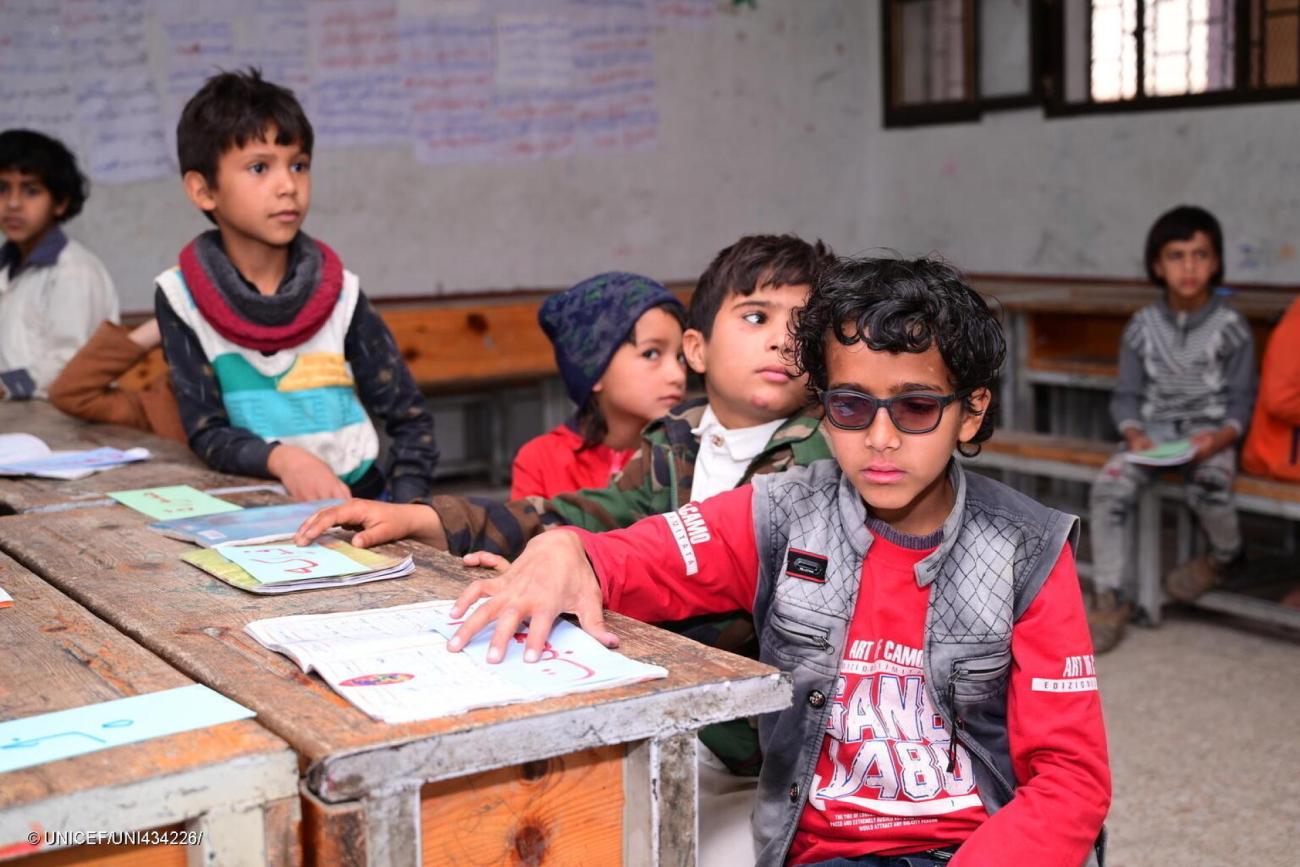 UNICEF's Basic Literacy and Numeracy Programme is a lifeline for children
The protracted conflict that broke out in Yemen over eight years ago has destroyed the essential social and humanitarian institutions in the country, including the education system, which dealt a blow to children's learning.
Widespread displacement, lack of educational staff and resources, damage to school facilities, and general insecurity in the nation inevitably led to millions of Yemeni children either completely staying out of school or left without sustainable access to education.
Rakan, a 10-year-old boy from Sana'a, is one of almost 3000 children in the Amanat Al Asimah, Yemen, who struggle with literacy and numeracy issues. Rakan is among the students who enrolled in the Basic Literacy and Numeracy Programme implemented by UNICEF with funding from The United States Government in the frame of the overall rehabilitation of the educational system in Yemen.
"This programme aims to address the weakness of literacy and numeracy among the students," says Hana Mohammed, a teacher at Al Gardai School in Sana'a, and one of the educators participating in the UNICEF Literacy and Numeracy Programme in Yemen. "Rakan was struggling with reading when he joined the programme," she remembers.
"It was hard for him to even distinguish letters and put them together into words."
The main concern about lost years of learning and gaps in literacy and numeracy among Yemen's youth is that those issues can have far-reaching consequences on the future of children and youth.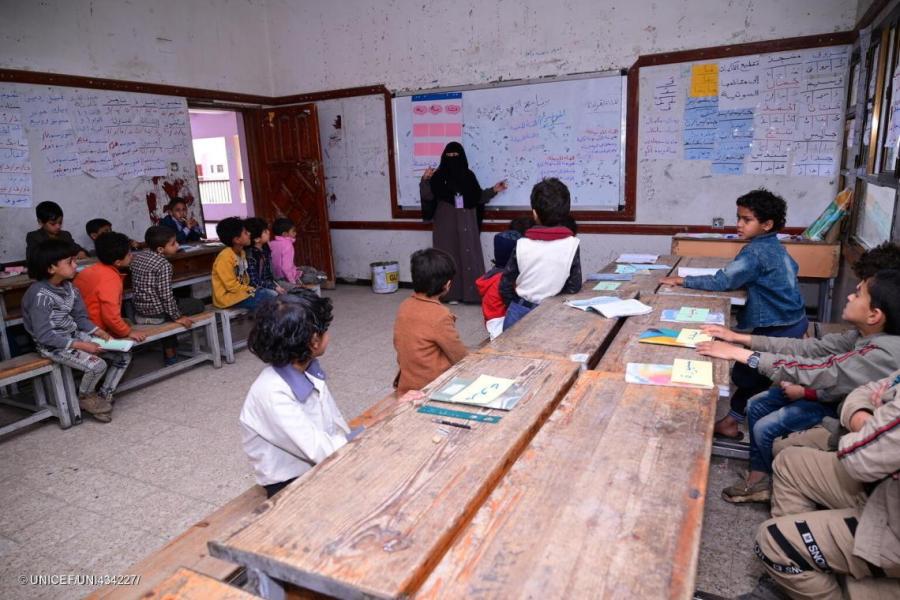 Rakan's story is an illustration of those concerns. Orphaned at a very young age, the boy is raised by his grandmother, whose meager income can barely cover the family's cost of living. Rakan grew up as a shy, insecure boy who struggled to make friends. His lack of education and inability to read and keep up with his classmates in math made it even more challenging for Rakan to continue his studies.
Millions of Yemeni children are stuck in this vicious circle today, which often pushes them to dangerous alternatives such as exploitation, crime, and recruitment into the fighting.
By implementing the education recovery programmes, UNICEF and its partners aim to hasten the day when the ongoing conflict will be settled and support Yemen in its further recovery.
Rakan's grandmother, who raised the boy and his brothers alone, saw the UNICEF Literacy and Numeracy Programme as a great opportunity for her grandson.
"At first, Rakan didn't want to join this programme," says his grandmother. "He was scared and shy because his academic level was so weak," she explains. "The principal asked him to come just for two days before he made his final decision. And thank God, after those two days, Rakan was eager to continue his studies!"
The Literacy and Numeracy programme is designed to help students feel comfortable and overcome their inhibitions in class. Rakan received a warm welcome from teachers who explained to students the importance of the programme and how they could benefit from it.
"Like all the other students enrolled in the programme, Rakan took an Annual Status of Education Report (ASER) test, which allowed us to determine his level, place him in a proper group, and start improving his literacy and numeracy at a comfortable pace."

Hana Mohammed
During his studies, Rakan took part in various activities with his classmates within the programme. They helped the previously introverted child build up his confidence and self-esteem and make new friends. Like other students enrolled in the programme, Rakan was assigned a supervisor who tracked the boy's progress and encouraged him to continue his studies.
"He is studying so hard now and does his homework all by himself!"

"And what is most important, the boy looks very happy!"

Rakan's grandmother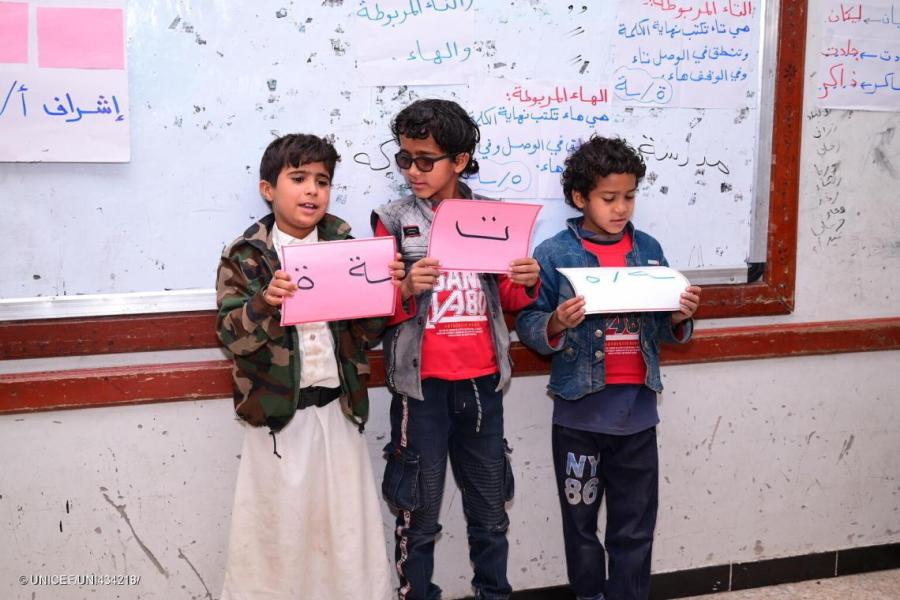 Two weeks after Rakan joined the Literacy and Numeracy Programme, his skills were evaluated again, and the supervisor noticed a remarkable improvement in the boy's development.
"I joined this programme and now I can write and distinguish among letters and am able to create words. My handwriting has improved too."

Rakan Al Qadhi
The boy who was struggling to talk to his classmates only a couple of weeks ago now has a conversation with the representative of the Ministry of Education, speaking about his progress and plans to continue education with pride and passion.
UNICEF's Basic Literacy and Numeracy Programme is a lifeline for children like Rakan, offering them a chance to break free from the cycle of illiteracy and insecurity. The programme not only focuses on improving academic skills but also aims to boost students' confidence, self-esteem, and social interactions. It is heartening to see how Rakan's progress and newfound enthusiasm for learning have transformed his life and given him hope for a better future.
UN entities involved in this initiative
UNICEF
United Nations Children's Fund