Story
PAVING 'DEATH ROAD' IN HAJJAH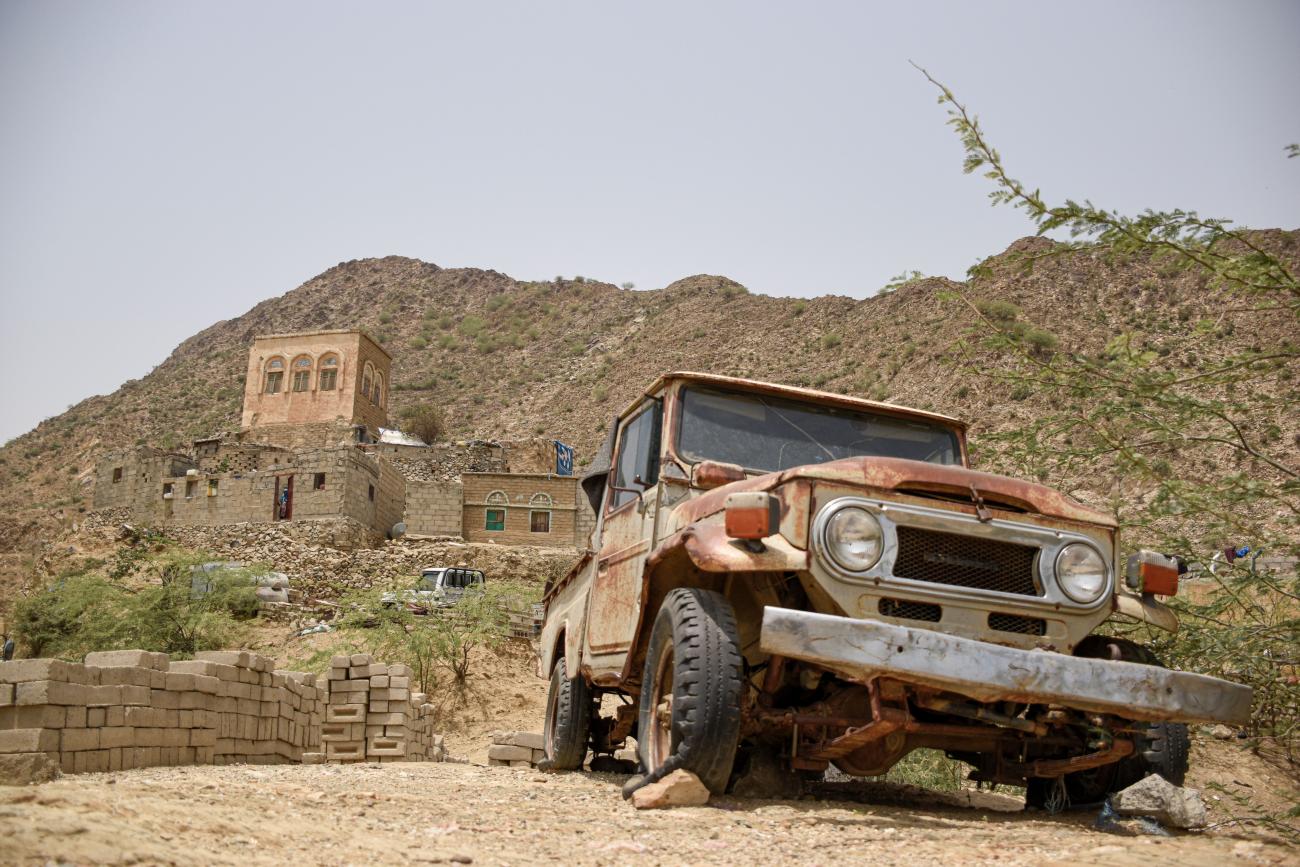 Saving Lives and Alleviating Suffering
Vehicles and trucks loaded with food and water move carefully and slowly along the steep, unpaved mountain road that connects the Ahem Market to all the Al-Sudha villages in Kushar district, Hajjah governorate.
The plight of people living in Bani-Shahr has been exacerbated year after year, especially during rainy seasons when this road becomes impassable. The road is the sole lifeline of the surrounding citizens, but transporting food, water, and other essential items has become extremely complicated. This time-consuming and costly path forced people to resort to using donkeys to traverse the difficult terrains.
People in Al-Sirat called this road the 'Death Road'. Its ruggedness and the absence of gabions has put people's lives in danger and caused many tragic accidents that have claimed numerous lives.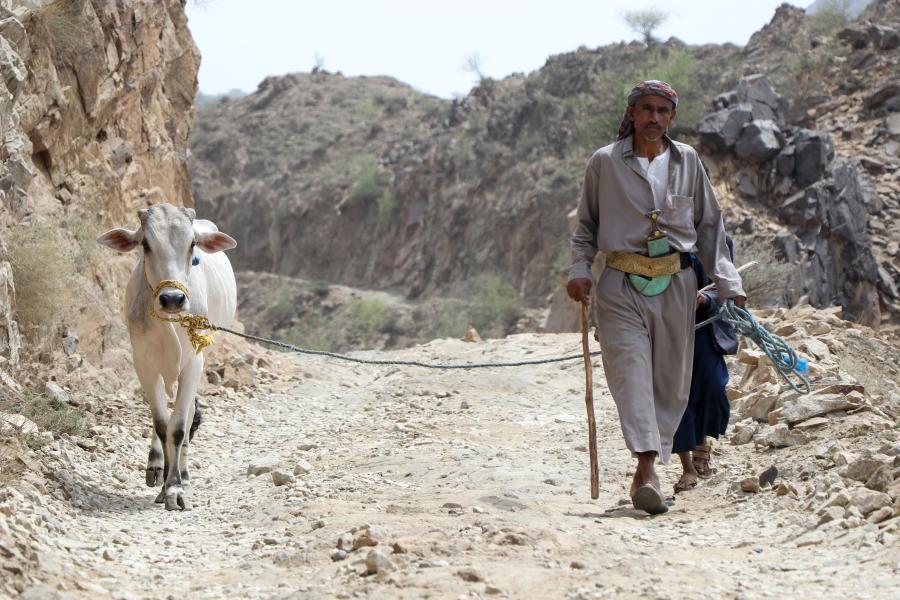 "The road in the Al-Sirat area connects more than five villages; however, the rugged route has had a serious impact on residents, resulting in tremendous problems. People struggle to transport food, obtain water, and access medical services, and they incur enormous costs for transportation like sending patients to hospitals. Because of this, people in the area lead a miserable life," says Ahmed Al-Shehri, 43, a resident of the area.
TRAGIC ACCIDENTS
Many lives have been lost because of having to drive a very dangerous slope called 'Al-Sirat'. All those who managed to traverse the road are said to have escaped the grip of death. Al-Shehri recalls three tragic traffic accidents that resulted in many causalities – one of which killed four people from the same family while transferring a patient to a hospital.
The danger and suffering intensify during the rainy season as the road becomes impassable, leaving these villages completely isolated. "The road gets blocked when it rains, so people resort to using donkeys to transport food and other necessities," says Al-Shehri. "Some have left their villages because they cannot obtain necessities. For example, the price of one water tanker has reached YER 60,000 (USD 100)," he indicates.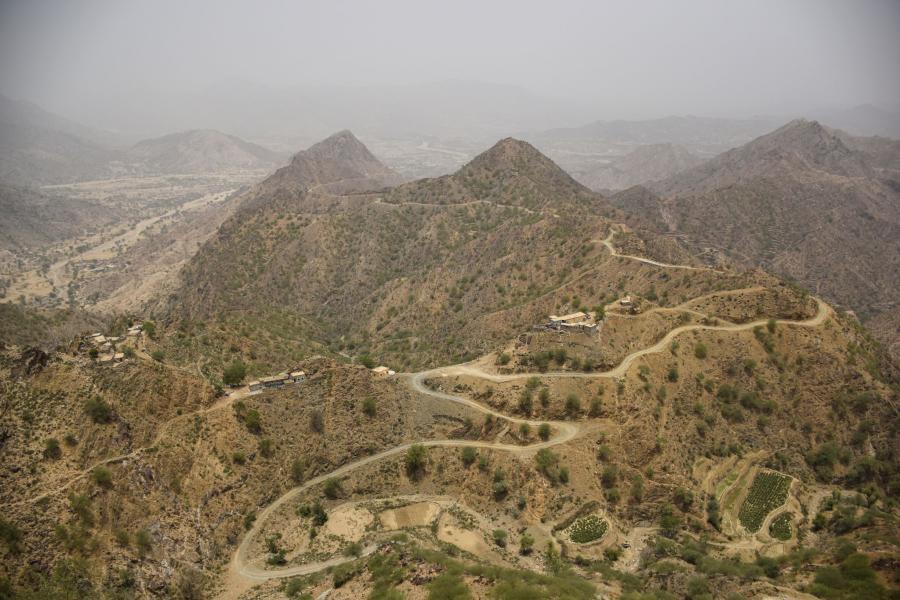 POSITIVE IMPACT
After residents' pleas for a solution, the Public Works Project (PWP) performed a project study and meet with residents to determine their priority needs. "The two parties agreed to pave the rocky parts of the road, estimated at 11 kilometres long," says Hamdi Sallam, PWP's Assistant Director of the Sub-District in Hajjah. 
"This project not only helped citizens overcome difficulties, but it also created local job opportunities. They gained skills and expertise from participating in the road construction, paving, etc.," he explains. "People's persistence and cooperation to overcome difficulties have contributed to completing the first phase of the project within four months."
"The road paving project reduced transportation costs, facilitated goods transport, and contributed to absorbing manpower," said Ahmed.
Al-Sirat Road was a nightmare for people, especially car and truck drivers. "Before PWP intervened and paved the roads and built gabions, people really suffered. The situation has now improved, and the road has become safer," he adds, hoping this project puts an end to the long-standing suffering experienced by people in this area.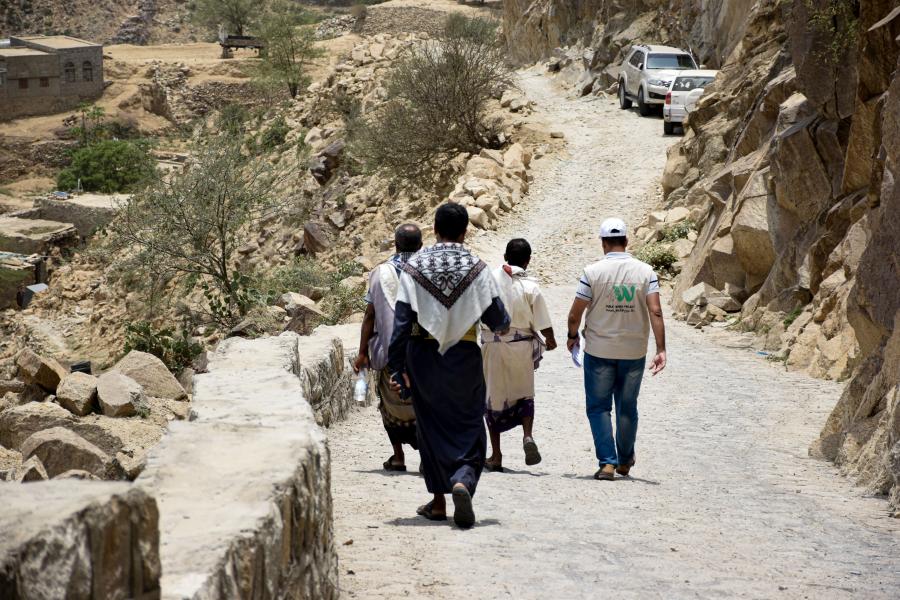 NAVIGATING RISKS
Highlighting the impact of paving the road, Ahmed Qarou, a 39-year-old resident of Bani-Shahr area indicates that "The project has changed the situation for the better and helped improve transportation, particularly transporting patients who require urgent medical care." He notes that "people worry less after the implementation of the project and that the costs of transporting basic materials and water were reduced". He explains that community members can now also save money to buy other necessities.
Beneficiaries felt very happy after repairing the road; the project has improved infrastructure and created job opportunities for several citizens.
According to the Assistant Director of PWP Sub-District, the community still faces additional challenges as not all the roadwork has been completed. "The 11-kilometre-long project requires a second phase that must eventually be completed," he explains. "The first phase of the project has had a positive and multifaceted impact on people, reducing the cost of transporting food, water and other essentials." He indicates that "after paving this road, passengers' transportation fees went down from YER 5,000 (US$ 8) to YER 2,000 (US$ 3.5)." 
The Al-Sirat Road paving project – funded and supported by the World Bank's IDA in partnership with the United Nations Development Programme (UNDP) and implemented by PWP – has alleviated community suffering in Bani-Shahr Sub-District, Koshar. The success of this project comprises several aspects, improving the living standards of many families. It is a key factor in absorbing manpower as well as reducing personal and commercial transportation costs.
UN entities involved in this initiative
UNDP
United Nations Development Programme
Other entities involved in this initiative