Story
A Mother's Life Saved During Childbirth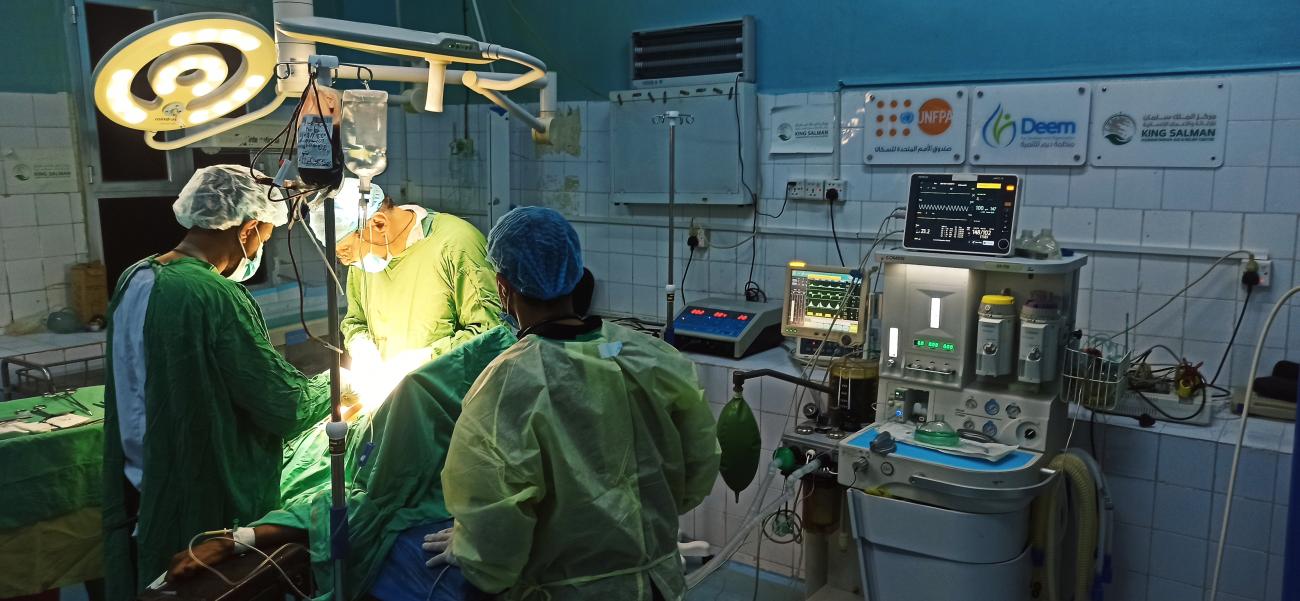 Ahlam, 37, was pregnant with her ninth child when her family was displaced from Rawan District to Al Jufinah Camp in Marib Governorate in Yemen.
Ahlam, 37, was pregnant with her ninth child when her family was displaced from Rawan District to Al Jufinah Camp in Marib Governorate in Yemen. Her body was exhausted from childbirth, displacement and lack of food during her ninth pregnancy.
"Most nights, I was in great pain, I could barely move or speak to my husband," tells Ahlam.
A horrifying experience
Ahlam's complications worsened closer to the delivery, threatening her life and that of her unborn child.
"I knew something did not feel right, but I had very few options. I had no savings after I lost my job from displacement" stated Ahlam's husband.
With no money to take Ahlam to a hospital, her husband resorted to an unskilled midwife to deliver at home.
Ahlam managed to deliver safely, but she began to bleed profusely. The midwife could not control the bleeding and rushed her to the nearest health clinic.
At the clinic, she was provided with first aid, but the clinic was not equipped to provide the urgent treatment Ahlam required.
"I felt the clock stopped ticking when the clinic nurse told me they could not do anything to help my wife. It was horrifying to imagine my wife was going to die," tells the husband.
Ahlam's body was turning blue, but the husband had no money left to afford the transportation to the nearest hospital.
With a stroke of luck, a visitor at the clinic offered to take Ahlam to Al Shaheed Mohammaed Ha'il Health Centre – a health facility supported by KSrelief to provide emergency obstetric care services.
A window of hope
Ahlam arrived at Al Shaheed Mohammed Hai'l Health Centre unconscious, in a terrible state of shock.  
The medical team rushed Ahlam to the operating theatre in the hope of saving her life.
"I thought she was gone once I saw her. I put my finger to check her heartbeat, it was fading away," told a nurse.
Ahlam had suffered a uterine rupture following the home delivery. The doctors could not stop the bleeding. Her blood levels had dropped drastically. A decision was taken to remove her womb in the hope of stabilizing the bleeding. 
"After six hours of surgery, when I saw her condition stabilize, I was overjoyed. The sound of the heartbeat monitor sounded like victory music," said the gynecologist.
A Life Won
Ahlam was later admitted to the intensive care unit for five days, where her health gradually began to improve.
"I felt like I died the moment I fainted," tells Ahlam after recovering. When I slowly opened my eyes, I thought I was opening them in my heaven, but I could hear the heartbeat monitor, then I knew I had made it out alive."
Yemen has one of the highest maternal mortality rates in the Arab region with one women dying every two hours during childbirth, another 20 suffer injuries, infections or disabilities that are preventable; while six out of 10 births take place without a skilled birth attendant.
Support from KSrelief is helping to increase access to reproductive health services for women and girls, with support to 15 health facilities and 50 community midwives in southern parts of the country. This is enabling pregnant women to deliver safely, while equipping health facilities to tackle other reproductive health complications such as that faced by Ahlam.
UN entities involved in this initiative
UNFPA
United Nations Population Fund