Story
Supporting Yemen human rights NGOs help bring peace and tolerance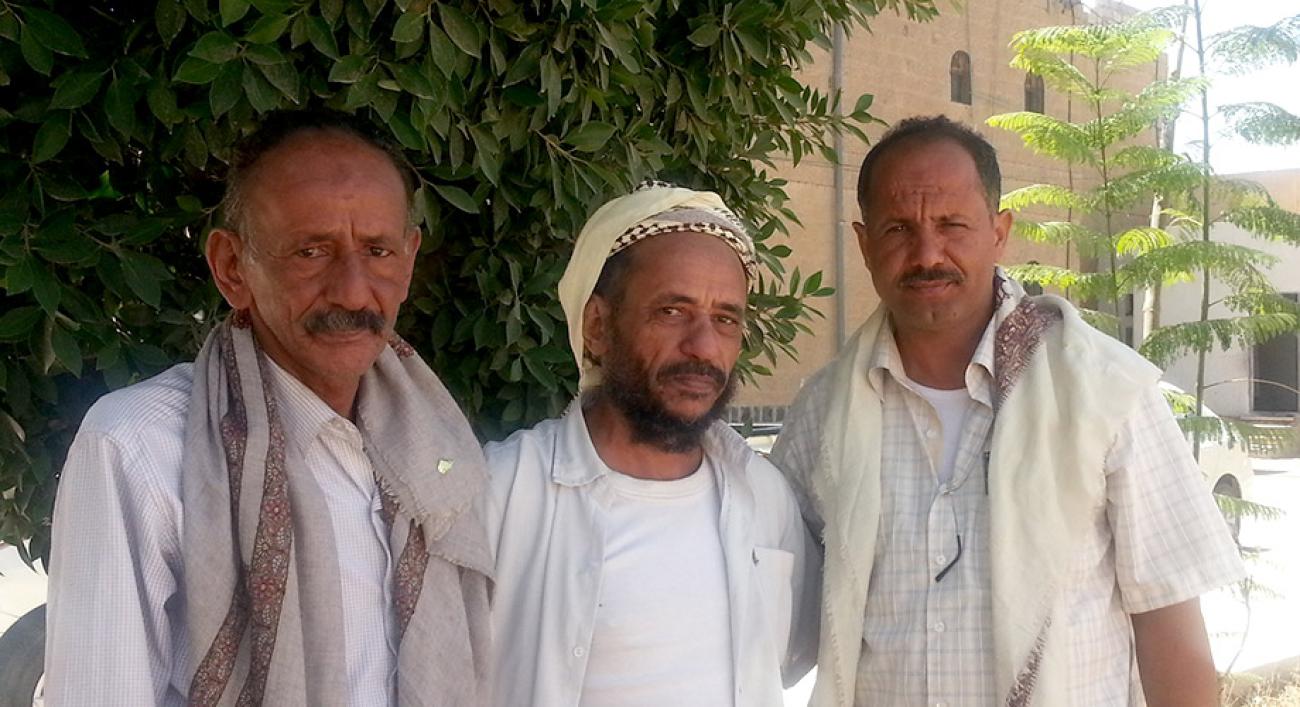 OHCHR provides financial and technical support to NGOs working to realise peace, advocate for disability rights and human rights in Yemen.
Last year, small conference rooms in Sana'a and Aden, Yemen were places of both meetings and transformation. In a country ravaged by a simmering ethnic and political tension and a three-year-old civil war, such meetings between young people from across the spectrum of Yemeni society – ethnic, religious, cultural, geographical, political – were not common.
They were gathered by the NGO Alf Ba Civic Coexistence Foundation with a simple aim: to have the young people speak to one another. But the deeper goal was life changing: through conversations stereotypes would be broken and intolerance lessened. Once learned, the young people would take those lessons to their communities, holding conversations and dialogues of their own about peace and tolerance.
"We want to build a bridge of dialogue (between communities)," said the group's Executive Director Bahia Alsaqaf. "It is easiest to start with the youth. They are the ones who can build the bridge between the different levels of society. It is a small process, but we are still optimistic. We go step by step."
Alf Ba was one of three Yemen-based NGOs that received funding from the UN Human Rights Office. Earlier this year, the Office provided seed money of USD$20,000 for the first time to NGOs based in the Middle East and North Africa (MENA) region. The funding allowed selected NGOs to work on specific projects that dove tailed with the human rights agenda.
In Yemen, civil war along with long held mistrust has left communities with many needs. NGOs help provide a bridge between human rights law and their importance to communities, said Mohammed Ali Alnsour, Chief of the MENA Section.
"As OHCHR, we cannot be everywhere," he said. "The MENA region is difficult in terms of conflicts…[T]here is a great gap between international obligations and the treaties and the policies and culture on the ground in some practices. So it is imperative to have in some places NGOs to implement projects."
Al-Aman Organization for Blind Women Care was another of the funded NGOs. While the name of the organization is specific for the blind, Dr. Awsan AL Asbahi, said their goal is to help empower all people with disabilities.
To do this, the group used their funding to create a campaign called "Here I am" which sought to raise the profile of people with disability living in Yemen among the general public, as well as help that community better understand their options. Al-Aman did this in a variety of ways including flyers that focused on particular articles on the Convention on the Rights of People with Disabilities (CRPD), a series of radio plays focusing on the disability rights, and a series of short videos that gave people an insight into the daily struggles people with particular disabilities face.
"The grant from OHCHR was important to us because our story is the story of human people, who need to know their rights in the media, particularly for people with disabilities who are not aware of their needs," she said. "People with disabilities have to know and realize their rights and also make our future better by reflecting all the articles on the Convention in the local life of Yemen."
For Laya Lutf, the funding has meant creating a network among local human rights groups to strengthen their reach. Her group, SAM Organization for Rights and Development, used the funding to bring together 30 NGOs for training on the UN Human Rights Mechanism as well as how to monitor human rights in the country.
SAM has been the forefront of negotiating and working on human rights issues, including the release of people detained during the 2015 conflict between forces loyal to internationally recognized President Abdrabbuh Mansour Hadi and those allied with the Houthi rebel movement and the army units loyal to the former President, Ali Abdullah Saleh. In 2015, SAM helped to negotiate the release of 650 detainees.
"The grant we received helps make our work much stronger," said Lutf who heads SAM. "We used to work alone and didn't get the support from others because everyone worked alone, which made raising humanitarian issues and human rights so weak. But if we do this together, this will make the voice of what is happening in Yemen and human rights (louder). We can defend human rights in Yemen better."
Alnsour said that because of the successes of these three NGOs, the funding will continue, with the number of NGOs receiving funding expected to be expanded.
Learn more about the work of NGOs in Yemen with this video. 
UN entities involved in this initiative
OHCHR
Office of the United Nations High Commissioner for Human Rights