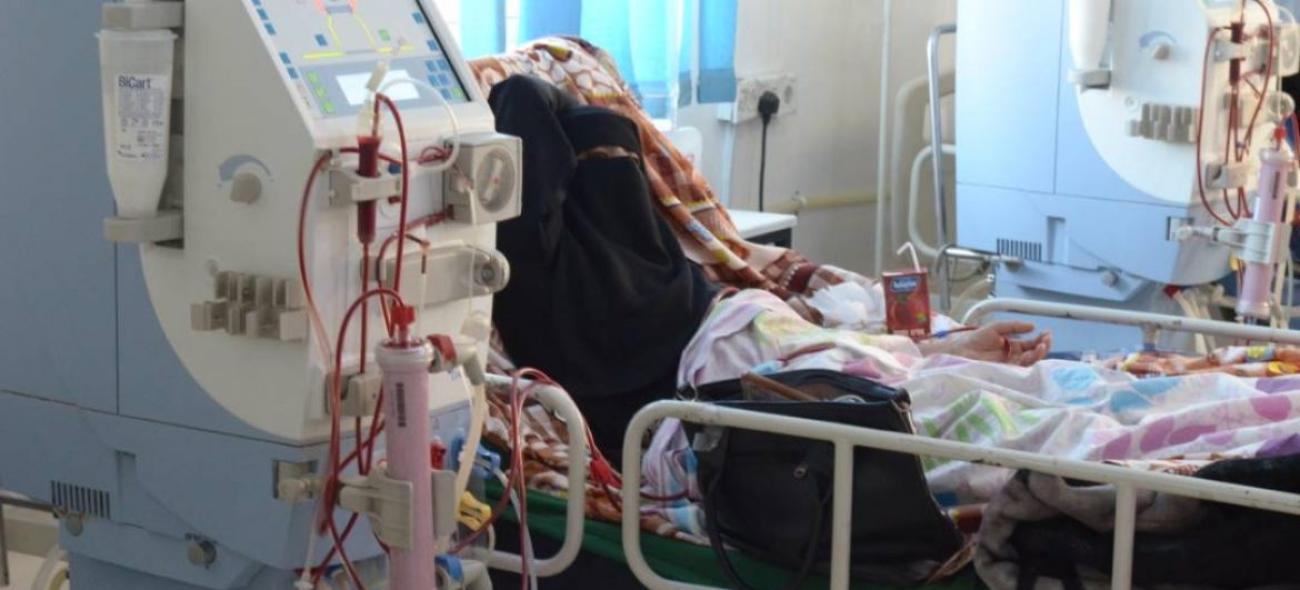 A joint World Bank- UNOPS project supports health facilities accross Yemen with the renewable energy they need to continue providig their life-saving services.
The ongoing conflict in Yemen has significantly worsened the already low electricity access level with severe impacts on urban public services as well as commercial and industrial activities, which all rely heavily on a functioning power supply. Fuel is scarce and many electricity generation facilities have been damaged. The national grid has disintegrated into several subnational systems because transmission links were damaged or ceased operations due to the conflict. Consequently, public electricity supply has been completely shut down in large areas of the country, including major cities such as Sana'a, Al Hodeidah and Taiz. The impact on facilities dependent on reliable electricity has been devastating. Hospitals, water pumping stations, water treatment stations, industry and commercial facilities have all had to cut back operations or find alternative power sources.
Only an estimated 10 percent of the population has access to reliable electricity and the consumption has decreased by about 75 percent
The World Bank and UN Office for Project Services (UNOPS) decided to step in and support main hospitals and healthcare centers in many cities in Yemen with the renewable energy through Yemen Integrated Urban Services Emergency Project (YIUSEP) granted by IDA. The Project's integrated approach ensures important sectoral linkages as an integral part of the design of project activities. As a result, providing electricity for critical services such general hospitals and health centers in target cities for the first year was crucial. The investment selection for the first year was based on close coordination and collaboration between UNOPS and UN Health Cluster, WHO, and the relevant District Local Authorities (DLAs). In the first year, the projects is targeting 89 health and educational facilities including three solar street lighting sub-projects.
120 kW Solar Installation for Aljumhori Hospital in Sana'a:
For many Yemenis, receiving healthcare treatment is a challenge in the conflict-affected country, and this has been further compounded due to the lack of steady electricity supply to the hospitals.  Al-Jumhoriah hospital in Sanaa, is a typical example where unpredicted power outages due to lack of fuel "diesel" or generators fail are a challenge. A diesel generator, which is expensive in long run and presents negative environment impacts is used at Al-Jumhoriah as a solution to power outages.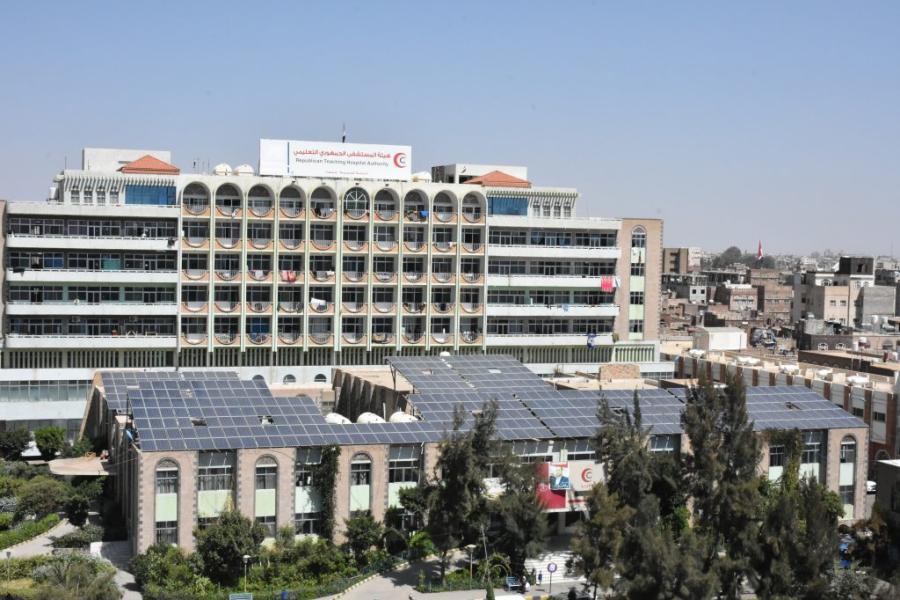 Approximately 40,000 Yemenis benefit from the Aljumhori Hospital services daily
The project has attracted national attention in Yemen as it received many inquiries regarding the key-success of this project. In addition, training plan was developed with the contractor to make sure delivering the main skills and experience in O&M of the system to the assigned team, which will be responsible for operating and maintaining activities.
"40% of the important hospital sectors have been covered by the project including the incubators, the incubators' intensive care unit. we are now able to effectively focus on saving lives and we hope to get more support from World Bank and UNOPS to reach full cover or 80% of the total needs of energy"

Dr.Nasr Al-Qadasi- Executive Manager/ Aljumhori Hospital​​​​
The three- year project YIUSEP funded by World Bank ( grant from IDA) and implemented by UNOPS aims to support 1.4 million Yemenis: 600,000 Yemenis with access to rehabilitated water and sanitation services, rehabilitate 400 kilometers of urban roads, restore 60,000 megawatt hours of energy generation, and create 1.5 million days of skilled and non-skilled employment – around half of them women – and will include 19 cities from across the country.
UN entities involved in this initiative
UNOPS
United Nations Office for Project Services
Other entities involved in this initiative