Samiah: Caught between war and displacement
Samiah and her family took a risky journey to Taiz in hopes of a safer life, only to face the unbearable reality and hardship of displacement.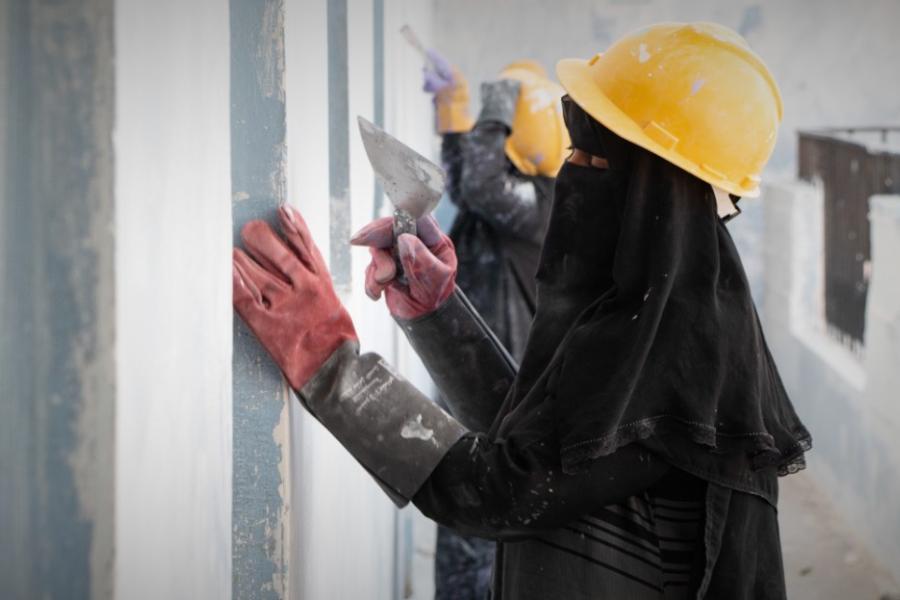 Photo | UNDP Yemen
"We had a happy life and felt safe at home before the war," said Samiah, a mother of two young daughters and a son.
"Our life was a peaceful one. My family relied on fishing for both our food and income. We used to get up early in the morning to go fishing," she said as her thoughts trailed off. "I would prepare breakfast for my family and my kids before they would head off to school. Life was good."
The recent armed clashes in Hodeidah have stripped these memories of happiness and safety from Samiah, instead forcing them to flee for their lives. The ongoing war in Yemen has taken a heavy toll on everyone, but particularly women and children; often leaving them vulnerable and at risk.
"Everything changed after the war broke out. Conflict was everywhere – there was no place that was safe, including the sea. My family was unable to fish, we had no other way to make money," she recalls. "And eventually I was unable to stay in my beloved city of Hodeidah because of the armed clashes were too close to our home; it was no longer safe to be there."
As Samiah tells her story of desperately fleeing their home in Hodeidah to the city of Taiz, she begins crying. Through her tears, she recalls how much she loved it there. "It was the hardest decision I've ever made – leaving my family and home in Hodeidah to face war, hunger, and death. But the fear for my children being killed by shells or missiles was enough to run."
She takes a deep breath and remembers with a heavy heart that "When we ran to catch the bus out of Hodeidah, the driver told us to pray and be prepared to die at any moment. My heart sank. We didn't know if we were going to make it or be killed on the way."
 "Despite the very terrifying hours, fear of being killed along the way and mistreatment at checkpoints, we made it safely to Taiz," Samiah says with a distant look in her eye.
Samiah is a vulnerable mother who cares about nothing more in the world but for the safety of her children. She took a risky journey to Taiz in hopes of a safer life, only to be faced the unbearable reality and hardship of displacement.
"We didn't have a place to stay or family in Taiz to help us."
Without the help of her family, or steady income, Samiah couldn't afford to rent an apartment in her new city. She was able to scrape together enough money to rent a substandard tiny shop with no amenities where she stayed for some time with her children. After several months, through the kindness of her neighbors, she received two months-worth of rent that enabled her to move into a small apartment with her family.
"The landlord was so kind and a very good man; he only asked for half the rent. Despite this, I wasn't even able to pay the other half. On top of what I owed him, I owed YER 80,000 (approximately USD $160) to the grocery store and a similar amount to another one." She added, "I could have never paid it back in my situation."
The generosity didn't last. Samiah felt helpless and hopeless as the landlord began wanting the full rent and the grocery stores began asking for their money. As if things couldn't get any worse, the soaring prices of food made it nearly impossible to provide food for her children. "We went to bed hungry many nights. There wasn't enough food to eat. I used to borrow flour or beans from my neighbors to make food for my children."
"There were times I told my children I wasn't hungry so that whatever food I put on the table would be enough for them."
Amidst this dire situation, Samiah and many others like her were given the opportunity to work and improve their living conditions through the large cash-for-work projects implemented by the Yemen-based Social Fund for Development (SFD), in partnership with the World Bank and the United Nations Development Programme.
Samiah now works with SFD and earns money for painting her community. She has painted the schools, parks and street curbs. Making breakfast and then heading off to work has created a similar routine to the one she had in Hodeidah; this simple routine has brought so much joy to her and her children.
Beaming with pride and dignity, Samiah says, "I've worked for four months now and many things have improved in our lives, thanks to this project. This work makes me happy and hopeful for the future. I can pay the rent and provide my children with food. Everyone is happy and healthy."
Through the cash-for-work project, Samiah discovered that she is not the only one that has suffered due to the ongoing conflict in the country. "I've met many people and heard their heartbreaking stories. One of my work colleagues spends the money he earns to treat his son's health ailment, while another has kidney failure and desperately needs treatment."
"When I hear about other people's suffering, I keep working as hard as I can so I'm never in that situation again."
Samiah hopes for peace to prevail in Yemen and that the war will come to an end soon. She wants all Yemeni people to live in peace in their homes. "I want the war to be over. I want to be able to live safely with my kids. I don't want to beg for help from anyone ever again. I've learned a great lesson from the cash-for-work project – depend on myself only and work hard to earn money to provide for my children," she concluded with a smile.
***
Funded and supported by the World Bank, the Yemen Emergency Crisis Response Project (YECRP) is implemented by UNDP in partnership with the Social Fund for Development (SFD) and the Public Works Project (PWP). The US$300 million project provides economic stimuli in the form of large cash-for-work projects, support to small businesses, and labor-intensive repairs of socio-economic assets, benefiting vulnerable local households and communities across Yemen.
UN entities involved in this initiative
UNDP
United Nations Development Programme
Goals we are supporting through this initiative